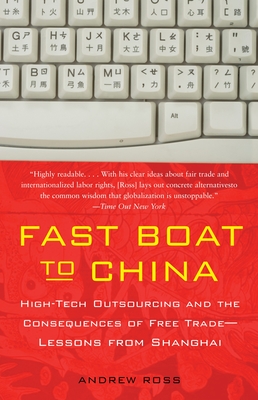 Fast Boat to China: High-Tech Outsourcing and the Consequences of Free Trade: Lessons from Shanghai (Paperback)
High-Tech Outsourcing and the Consequences of Free Trade: Lessons from Shanghai
Vintage, 9781400095544, 320pp.
Publication Date: June 12, 2007
* Individual store prices may vary.
or
Not Currently Available for Direct Purchase
Description
Most Americans today are aware that jobs are being outsourced to China, India, and other nations at an alarming rate. From factory jobs to white-collar, high-tech positions, the exporting of labor is one of the most controversial issues in America.Yet few people know much about the other end about the people who are actually working these jobs and how their own lives have been throw into tumult by these new economic forces. Andrew Ross spent a year in China, interviewing local employees and their managers in Taiwan, Shanghai, and the far western provinces. In this engaging and informative book, he shows how the Chinese workforce has inherited many of the same worries as American workers, such as job instability, long hours, and awareness of their own expendability. He reports on the daily reality of corporate free trade and explores the growing competition between China and India. This is an eye-opening exploration of an unseen side of our globalized world.
About the Author
Andrew Ross is Professor of American Studies at New York University. He is the author of seven books, including No-Collar: The Humane Workplace and its Hidden Costs, The Celebration Chronicles: Life, Liberty and the Pursuit of Property Value in Disney's New Town and Low Pay, High Profile: The Global Push for Fair Labor. He has also edited six books, including No Sweat: Fashion, Free Trade, and the Rights of Garment Workers, and, most recently, Anti-Americanism.
Praise For Fast Boat to China: High-Tech Outsourcing and the Consequences of Free Trade: Lessons from Shanghai…
"Highly readable. . . . With his clear ideas about fair trade and internationalized labor rights, [Ross] lays out concrete alternatives to the common wisdom that globalization is unstoppable."
—Time Out New York

"A fresh look at exactly what we should be making of . . . the increasing number of U.S. and European companies that are relocating their factories and work force in China."
—The Asian Review of Books

"A skeptical take on pro-China boosterism, gained through the same participant-observer techniques the author brought to his Celebration Chronicles."
—The Atlantic Monthly

"Engaging. . . . A compelling ground-level perspective."
—The Fort Wayne Journal-Gazette
Advertisement