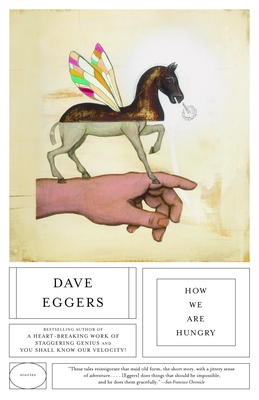 How We Are Hungry
Paperback

* Individual store prices may vary.
Other Editions of This Title:
Digital Audiobook (6/30/2011)
Hardcover (10/1/2004)
Description
"These tales reinvigorate…the short story with a jittery sense of adventure."  —San Francisco Chronicle

Dave Eggers—Pulitzer Prize finalist for A Heartbreaking Work of Staggering Genius and author of What Is the What and The Circle, among other books—demonstrates his mastery of the short story.


"Another"
"What It Means When a Crowd in a Faraway Nation Takes a Soldier Representing Your Own Nation, Shoots Him, Drags Him from His Vehicle and Then Mutilates Him in the Dust"
"The Only Meaning of the Oil-Wet Water"
"On Wanting to Have Three Walls Up Before She Gets Home"
"Climbing to the Window, Pretending to Dance"
"She Waits, Seething, Blooming"
"Quiet"
"Your Mother and I"
"Naveed"
"Notes for a Story of a Man Who Will Not Die Alone"
"About the Man Who Began Flying After Meeting Her"
"Up the Mountain Coming Down Slowly"
"After I Was Thrown in the River and Before I Drowned"
Praise For How We Are Hungry…
"These tales reinvigorate that staid old form, the short story, with a jittery sense of adventure. . . . [Eggers] does things that should be impossible, and he does them gracefully." —San Francisco Chronicle
"A tour de force. . . . [Eggers'] prose is supple, transparent and surprising." —The New York Times Book Review
"The man can simply write extraordinarily well. . . . How We Are Hungry is a triumph of both form and content. . . . Dave Eggers is the real thing." —The Guardian (London)
"Beautiful stories, anchored in the real world, with more bodies and objects than concepts or abstractions. There is a sense of human exuberance in the clean, swift language. . . . It looks like a classic." —The Oregonian
"It's [the] tension between our base and noble impulses, our so-called animal and refined natures, that gives How We Are Hungry its momentum. . . . Eggers is phenomenally talented--maybe uniquely so." —The Washington Post
"Full of the raw stuff of lives. The pain and the anger. Emotions that get mixed up and change from one minute to the next. The wonder and the joy. It's all condensed and crafted, working, that's what fiction is. But it feels raw, and it's exhilarating. . . . And that's not even getting into how electrically funny Eggers can be." —The Globe and Mail
"'After I Was Thrown in the River and Before I Drowned' is a small tour de force that ratifies [Eggers's] ability to write about anything with style and vigor and genuine emotion." —The New York Times
"Haunting character-driven narratives. . . . Eggers is a master." —Entertainment Weekly
"['Up the Mountain Coming Down Slowly' is] a masterpiece. . . . The narration is magisterial, without a false note. . . . It may well be the last great twentieth-century short story." —The Observer (London)
"One of the many pleasures in reading How We Are Hungry, Eggers' recent collection of stories, is that it reminds you of his abilities as a writer. He can dazzle . . . he can move effortlessly between classic storytelling and the more experimental." —Salon
"There's stunning writing here. Subtle, epigrammatic, candid and thoughtful." —Herald (London)
"While some story collections forsake the everyday for the exotic, Dave Eggers' How We Are Hungry finds meaning in the back yards of America as easily as amidst the surf of Costa Rica–with the revelation that sometimes, the heaviest things we carry on a journey are our own thoughts." —The Philadelphia City Paper
"As always, Eggers finds his place between outrageous humor and disastrous sadness. . . . [His stories] don't quit resonating until long after the last sentence is finished." —Newcity Chicago
"It's not surprising that short stories would turn out to be [Eggers'] best fiction milieu. . . . He plays with format and content alike, and the results are as remarkable as they are intrepid." —The Onion
"[These] stories and sequences . . . move and disturb in unexpected, even shocking ways." —Times Literary Supplement (U.K.)
"If all writing had the sense of moral purpose Eggers displays, the world would be a sharper, livelier place." —The Journal News
Vintage, 9781400095568, 224pp.
Publication Date: October 11, 2005
About the Author
Dave Eggers is the author of six previous books, including Zeitoun, winner of the American Book Award and the Dayton Literary Peace Prize. What Is the What was a finalist for the 2006 National Book Critics Circle Award and won France's Prix Medici. That book, about Valentino Achak Deng, a survivor of the civil war in Sudan, gave birth to the Valentino Achak Deng Foundation, which operates a secondary school in South Sudan run by Mr. Deng. Eggers is the founder and editor of McSweeney's, an independent publishing house based in San Francisco that produces a quarterly journal, a monthly magazine, The Believer, and an oral history series, Voice of Witness. In 2002, with Nínive Calegari he co-founded 826 Valencia, a nonprofit writing and tutoring center for youth in the Mission District of San Francisco. Local communities have since opened sister 826 centers in Chicago, Los Angeles, New York, Ann Arbor, Seattle, Boston and Washington, DC, and similar centers now exist in London (the Ministry of Stories), Dublin (Fighting Words) and in Copenhagen, Stockholm, Melbourne, and many other cities. A native of Chicago, Eggers now lives in Northern California with his wife and two children.