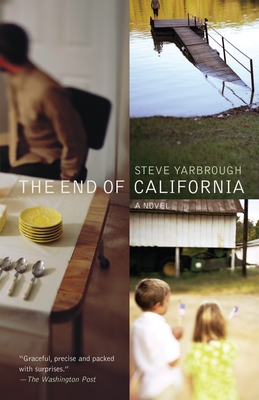 The End of California (Vintage Contemporaries) (Paperback)
Vintage, 9781400095704, 320pp.
Publication Date: July 10, 2007
* Individual store prices may vary.
Description
From critically acclaimed author Steve Yarbrough comes this riveting, beautifully nuanced, new novel of life in a small town.

After twenty-five years away and an illicit scandal in California, Dr. Pete Barrington is returning home to Loring, Mississippi, where football rules and religious piety mingles uncomfortably with darker human impulses. Though Barrington sets up a small practice and finds solace in an old friend, his wife, Angela, and daughter, Toni, are having trouble adjusting. Also, Barrington's homecoming has awakened difficult memories for Alan DePoyster, a former high school classmate and now a pillar of the community, who blames Barrington for tearing apart his family. When DePoyster's son and Barrington's daughter begin a fledgling relationship, the children are forced to pay for their parents' sins, and things take a disastrous, even shocking turn.
About the Author
Born in the Delta town of Indianola, Mississippi, Steve Yarbrough now lives with his wife and their two daughters in Fresno, California, where he teaches at the university. His recent fiction has also been published in England, Holland, and Poland.
Praise For The End of California (Vintage Contemporaries)…
"Impressive.... Graceful, precise and packed with surprises." —The Washington Post"Compelling.... Yarbrough has a keen ear and a sharp eye for changes in the cultural landscape." —Los Angeles Times Book Review"The End of California unreels fast, with high drama. Its juicy characters.... hook immediately and don't let go." —The Oregonian "The End of California unreels fast, with high drama. Its juicy characters, limned in a succulent mystery plot, hook immediately and don't let go. Yarbrough succinctly depicts life in contemporary small-town America . . . a life peppered with cell phones and text-messaging that simultaneously features characters who've never left the county, much less the state in a post-Jim Crow era . . . A worthy companion to Larry McMurtry's 1966 classic." —Annie Dawid, The Oregonian"Compelling . . . Yarbrough has a keen ear for the nuances of Southern speech and a fine command of details, [as well as] a sharp eye for changes in the cultural landscape, [where] King Cotton has been displaced by catfish farming [and] googling has joined gossiping as a way to root out secrets." —Roy Hoffman, Los Angeles Times Book Review"[The End of California] cements Yarbrough's reputation as one of the brightest contemporary Southern writers wince Pat Conroy . . . An evocative portrait of a place and poeple [who are] every bit as complex as Faulkner's Snopses and Compsons, rendered in a clear, contemporary narrative." —Ron Francell, Atlanta Journal-Constitution"Surprising, even magical . . . Yarbrough weaves the inner-workings of a small Southern town into a symphony of voices and scenes." —Regis Behe, Pittsburgh Tribune-Review"I love his past work, but The End of California definitely blows them all away [with] a tale of real people whose actions catch the reader in whirlwinds of passion, deceit, rage and death . . . It may be The End of California, but it's the continuation of great prose from Yarbrough." —JC Patterson, Jackson Clarion-Ledger"Impressive . . . Yarbrough knows his characters so well, cares for them so deeply and writes of them in prose that is graceful, precise and packed with surprises . . . [The End of California] limits itself to life as we know it—which of course is no limitation at all." —Patrick Anderson, The Washington Post"Yarbrough's story blends elements we have seen in other novels--the small-town South, the football hero grown up, passions that reach back to high school, a little incest and a lot of extramarital sex, racial tensions, hypocrisy amount the pious--but it all works because Yarbrough knows his characters so well, cares for them so deeply and writes of them in prose that is graceful, precise and packed with surprises." —Patrick Anderson, The Washington Post"The End of California is artfully crafted, sensitive and observant, with characters who stick with you. But what makes it really shine is the undercurrent of thoughtfulness about who we are and what we're becoming, [as] Loring becomes a kind of microcosm for the cultural divisions and moral ambiguities of contemporary America." —Charles Matthews, San Jose Mercury News"Yarbrough's captivating novel of a prodigal son's return is written with wit, charm, and an obvious affection for the many characters that populate Loring, a place that has the same positives and negatives of any small town: people know you, and people know you . . . Pleasing and unexpectedly shocking, this work is simply very good . . . Read this book." —Jyna Scheeren, Library Journal"Yarbrough fulfills the novelist's chief task, by giving weight and import to human actions, [and] the momentum that builds, the increasing power the characters have to do each other good or ill, holds the reader spellbound." —Kirkus"Yarbrough returns to Loring, Miss., to examine the intersecting lives of two contemporary family men in this sensitive but powerful smalltown portrait of sex, religion and other human passions . . . [He] gives each character in this slow-burning drama the complex emotional scars of broken marriage and, more importantly, the space and voice with which to explore them." —Publishers Weekly"A tale of tested loyalties: between friends, spouses, children, and even the community as a whole [in which] small town ambience, with its conventions and crowdedness, its secrets and suspicions, is evoked with careful detail." —Brad Hooper, Booklist"Anybody who thinks the Mississippi Delta has given up all its secrets needs to read Steve Yarbrough, especially this new one. It's scary and wonderful, true to the bone and his best yet." —Beverly Lowry"For a writer, a small town is a narrow well, but an exceedingly deep one. Nobody understands this better than Steve Yarbrough does. Many of us have been wondering what became of Loring, Mississippi —Yarbrough's Yoknapatawpha. The End of California is a profoundly satisfying answer to that question. —Jennifer Haigh
or
Not Currently Available for Direct Purchase