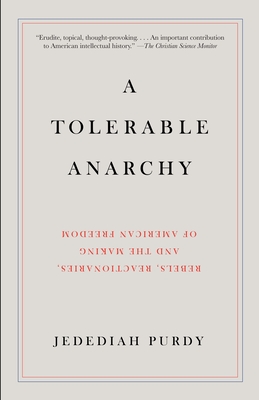 A Tolerable Anarchy: Rebels, Reactionaries, and the Making of American Freedom (Paperback)
Rebels, Reactionaries, and the Making of American Freedom
Vintage Books USA, 9781400095841, 294pp.
Publication Date: March 9, 2010
Description
In A Tolerable Anarchy, Jedediah Purdy traces the history of the American understanding of freedom, an ideal that has inspired the country's best and worst moments, from independence and emancipation to war and economic uncertainty. Working from portraits of famous American lives, like Frederick Douglas and Ralph Waldo Emerson, Purdy asks crucial questions about our relationship to liberty: Does capitalism perfect or destroy freedom? Does freedom mean following tradition, God's word, or one's own heart? Can a nation of individuals also be a community of citizens? This is history that speaks plainly to our lives today, urging readers to explore our understanding of our country and ourselves, and a provocative look at one of America's cherished principles.
About the Author
Jedediah Purdy teaches law at Duke University and has also taught at Yale and Harvard. Purdy is the author of For Common Things: Irony, Trust, and Commitment in America Today and Being America: Liberty, Commerce, and Violence in an American World, and has written for The Atlantic Monthly, The New York Times, Democracy, and other publications.
Praise For A Tolerable Anarchy: Rebels, Reactionaries, and the Making of American Freedom…
"Erudite, topical, thought-provoking. . . . An important contribution to American intellectual history."
—The Christian Science Monitor
 
"Engaging, cogently argued. . . . A lively and astute exposition of America's most cherished secular ideal."
—The American Prospect
 
"[A] philosophically cast meditation that . . . grapples with the paradox of American individualism . . . [Purdy] cautions that our idea of freedom is deceptively simple, requiring both restraint and engagement from government, and autonomy and interdependence in civic affairs."
—Los Angeles Times
 
"Provocative ideas for a democracy that is showing signs of wear and tear."
—Pittsburgh Post-Gazette
 
"America has always struggled to define freedom—a struggle that has involved everything from slavery in the eighteenth and early nineteenth centuries, to the cultural ferment of the 1960s, and the free-wheeling capitalism of the 1980s and 1990s. In this thoughtful and engaging history of ideas, Jedediah Purdy vividly recounts this multifaceted debate and illuminates how the idea of freedom is still evolving. Here is an essential book for understanding the idea of freedom in America and the role of government in our lives."
—Robert B. Reich, author of Supercapitalism: The Transformation of Business, Democracy, and Everyday Life
 
"[A] page-turning history of American freedom."
—The Fayetteville Observer (North Caroline)
 
"Purdy has emerged as one of America's most promising young public intellectuals. This beautifully written book confirms his place. Rich in the history he tells, and brilliant in its insight, the book will change how you think about America, and the challenge we face for its future."
—Lawrence Lessig, founder of Creative Commons and author of Free Culture
Advertisement