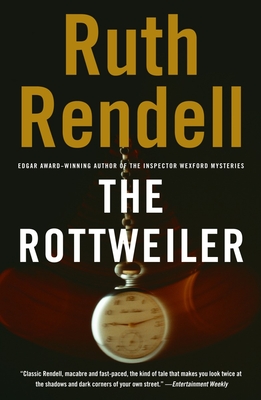 The Rottweiler (Paperback)
Vintage Books USA, 9781400095889, 339pp.
Publication Date: September 13, 2005
* Individual store prices may vary.
or
Not Currently Available for Direct Purchase
Description
The first victim had bite marks on her neck so the London papers nicknamed her killer, the Rottweiler. He has been stalking the small and diverse London community of Lisson Grove, where Inez Ferry runs an antique shop frequented by a motley collection of eccentric individuals. When the Rottweiler's trinkets start showing up in the shop, suddenly, everyone Inez knows is a suspect, and the killer feels all too close. Enthralling and deeply unsettling, The Rottweiler alternates expertly between the mind of a psychopath and the daily affairs of those living in his shadow. It is a transfixing mystery that only Ruth Rendell could write.
About the Author
Ruth Rendell has been awarded three Edgars for best novel from the Mystery Writers of America, as well as the Grand Master Award. In England, the Crime Writer s Association has honored her with three Gold Daggers for best novel, a Silver Dagger, and a Diamond Dagger for outstanding contribution to the genre. She lives in London."
Praise For The Rottweiler…
"Classic Rendell, macabre and fast-paced, the kind of tale that makes you look twice at the shadows and dark corners of your own street. Grade: A." --Entertainment Weekly"Clever. . . . Especially sure-handed. . . . An expert, teasing mystery." --The New York Times "One of the few don't-miss authors in the genre. . . . Ruth Rendell is one of those writers one reads for the sheer joy of the way she puts words together. . . . The novel is superbly crafted. Read it when you have plenty of time to savor its many delights." -- The Plain Dealer"The British master of style, suspense, complexity and creepy villains...Rendell is the perfect storyteller. . . . If you read only one novel this year, make it The Rottweiler." --The Orlando Sentinel"Powerful and appealing.... [Rendell] has the mystery form down pat." --The Washington Post"Ruth Rendell's books always rise to the top. She's so good..... In her quiet, silken-noose way, Rendell illuminates these people, traces their intersecting paths, and gives them meaning and substance." --The Seattle Times"Rendell is a master of the tires-on-ice moment, the moment when the intersecting elements begin their inexorable slide into calamity.... [Her] body of work...constitutes one of the most precise and unflinching contributions to contemporary English fiction." --Salon "Subtle, witty, and observant, Rendell creates a rich tapestry of characters and interweaves their stories.... The story of the killer provides the adrenaline, but the smaller stories of Becky, Inez, Zeinab, and the rest give this novel a beating heart." --The Boston Globe"Rendell's prose is incisive and clear, peeling away the complex layers that her characters, no matter how ordinary they appear, actually possess." --The Baltimore Sun"The author trains a...penetrating eye on the psychology behind her characters' foibles.... Even the most innocent secrets...have a function in the macabre scenario that ultimately flushes out the killer." --The New York Times Book Review"As usual, Rendell presents an intricate and intriguing story with a penetrating glimpse into the sometimes evil, sometimes pitiable, but always fascinating depths of human nature." --San Diego Union-Tribune"[Proves] again that, in the world of contemporary crime fiction, Rendell really is top dog." --The Times (London)
Advertisement