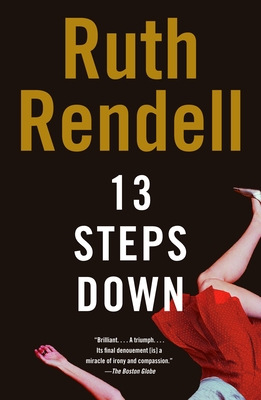 13 Steps Down (Paperback)
Vintage Books USA, 9781400095902, 340pp.
Publication Date: June 6, 2006
Description
Mix Cellini has just moved into a flat in a decaying house in Nottinghill, where he plans to pursue his two abiding passions--supermodel Nerissa Nash, whom he worships from afar, and the life of serial killer Reggie Christie, hanged fifty years earlier for murdering at least eight women. Gwendolen Chawcer, Mix's eighty-year-old landlady has few interests beside her old books and her new tenant. But she does have an intriguing connection to Christie. And when reality intrudes into Mix's life, he turns toi Christie for inspiration and a long pent-up violence explodes. Intricately plotted and brilliantly written, "13 Steps Down" enters the minds of these disparate people as they move inexorably toward its breathtaking conclusion.
About the Author
Ruth Rendell has won numerous awards, including three Edgars, the highest accolade from Mystery Writers of America, and three Gold Daggers, one Silver Dagger, and a Diamond Dagger for outstanding contribution to the genre from England's prestigious Crime Writer's Association. She lives in London.
Praise For 13 Steps Down…
"Brilliant. . . . Wonderful. . . . Remarkable. . . . A triumph. . . . Its final denouement [is] a miracle of irony and compassion." --The Boston Globe

" Dazzling. . . . Cool, dark, intricately plotted. . . . At once creepy, incredibly funny, and oddly moving. Grade: A." --Entertainment Weekly

"Brilliant. . . . Chilling. . . . A profoundly unnerving psychological suspense novel . . . that demonstrates Rendell's cunning artistry. . . . We'll never forget our visit to St. Blaise House." --The New York Times Book Review

"Rendell, the mistress of foreboding . . . twists to a high pitch, so that you keep on turning the pages, alternately shuddering and smiling. . . . One of the top crime novels of the year." --The Rocky Mountain News
Advertisement