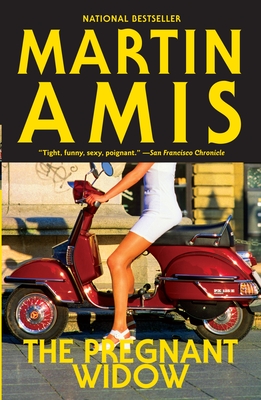 The Pregnant Widow (Paperback)
Vintage Books, 9781400095988, 370pp.
Publication Date: May 3, 2011
Description
A riotous, bitingly funny, and supremely clever novel from one of our most distinctive voices in the English language.
 
The year is 1970, and Keith Nearing, a twenty-year-old literature student, is spending his summer vacation in a castle on a mountainside in Italy. The Sexual Revolution is in full-swing—a historical moment of unprecedented opportunity—and Keith and his friends are immediately caught up in its chaotic, ecstatic throes. Yet they soon discover a disturbing truth: between the death of one social order and the birth of another, there exists a state of liminal purgatory, once described by the Russian thinker Alexander Herzen as "a pregnant widow."
 
As Amis deftly explores the repercussions and consequences of that one summer, he presents us with a precise and poignant portrait of the liberating possibilities, and the haunting consequences, of change. Expertly written and full of wit and pathos, The Pregnant Widow is Amis at his fearless best.
About the Author
Martin Amis is the author of eleven previous novels, the memoir "Experience," and two collections of stories and six of nonfiction, most recently "The Second Plane." He lives in London.
Praise For The Pregnant Widow…
"Superb. . . . Amis's readers will be delighted by this return to form. . . . If beauty has gone out of the world, it has just reentered literature through this strange, sparkling novel." —The New York Review of Books

"Fine and hilarious. . . . Amis at his absolute and unique best." —The Economist
 
"Like Joyce and Nabokov, Amis trades in mysteries, in riddles, in revelations half-offered in quasi-cryptic language. . . . Sentence by sentence, Amis still writes some of the keenest prose in English today." —The New Republic

"Amis's best book in fifteen years. . .nakedly, brazenly, devotedly about sex. . . . A nearly perfect comic novel." —New York Magazine
 
"Insightful. . . . If you like your novels bracing and unvarnished, don't pass this one up." —People
 
"Amis is back in fine form, riffing brilliantly on sex, beauty, age and the aftermath of social revolution." —"What We're Reading," NPR.org
 
"Amis has still got it. . . . Along with Tom Wolfe and Hunter S. Thompson, Amis is one of the true original voices to come along in the last 40 years." —Graydon Carter, The New York Times Book Review
 
"This is what has always made Amis a writer worth reading: his ability to dramatize the sense of sadness and regret at the heart of his limited men." —The Boston Globe
 
"Amis is a terrific comic writer, and many of his observations are amusingly relevant." —The Miami Herald
 
"Funny, clever and knowing. . . . It delivers fantastic enjoyment." —Mail on Sunday (London)
 
"Close to a masterpiece. . . . Hilarious, often wonderfully perceptive, uncompromisingly ambitious and written by a great master of the English language. In a time when many of our novelists are hedging their bets, Amis is gloriously undaunted." —Financial Times
 
"Classic Amis. . . . One must read The Pregnant Widow for its evocation of youth without innocence, and of the sexual revolution's 'tingle of license' where words—not just bodies—were liberated." —Time Out New York
 
"An ambitious, historically-minded project with keen insight and masterly sentences. . . . The Pregnant Widow is a stunning book; it contains within it all that is best in the English novel." —The Millions
 
"Sumptuous. . . . It is beautifully achieved, cunningly relaxed, and also reveals considerable emotional depth. . . . Moving and humane, The Pregnant Widow also captivates by the accustomed wit and elegance of its style." —The Daily Telegraph (London)
 
"The buzzing sense of fresh, limitless erotic license is captured brilliantly. . . . [Amis] is beginning to write with Old Master assurance on the important subjects." —Aravind Adiga, The Times (London)
 
"Sparkling and pointed. . . . [Amis's] prose in this sex comedy is angular and tart." —The New York Post
 
Advertisement