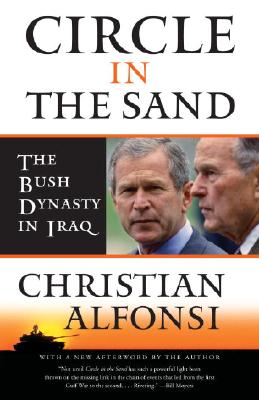 Circle in the Sand: The Bush Dynasty in Iraq (Paperback)
The Bush Dynasty in Iraq
Vintage Books USA, 9781400096060, 470pp.
Publication Date: October 9, 2007
* Individual store prices may vary.
or
Not Currently Available for Direct Purchase
Description
Essential to understanding the roots of one of the worst foreign policy disasters in American history, " Circle in the Sand" is a revelation-filled account that exposes the troubling links between the two Bush presidencies and their wars in Iraq. Drawing on hundreds of never-before-revealed White House documents, as well as interviews with top officials from both Bush administrations, Christian Alfonsi paints a devastating new portrait of the Bush dynasty.
About the Author
Christian Alfonsi holds a 1999 Ph.D. in political science from Harvard University; his dissertation, "Improvised Crusades," examined the first Bush Administration's use of military intervention in foreign affairs and is the basis for "Circle in the Sand." After graduation he worked as a strategic planner for Young and Rubicam until his thesis advisors Stanley Hoffman and Ernest May urged him to revisit his dissertation and turn it into a book.
Praise For Circle in the Sand: The Bush Dynasty in Iraq…
"Not until Circle in the Sand has such a powerful light been thrown on the missing link in the chain of events that led from the first Gulf War to the second. . . . Riveting." —Bill Moyers "An eye-opener. . . . A retelling of the 1990-91 Gulf crisis with the benefit of new documents and on-the-record interviews with senior officials then and now. . . . Plenty of juicy tidbits about the once and future Bushies." —The Washington Post Book World"Dramatically illustrates how decisions made [in 1991] foreshadowed the war in Iraq waged by the current Bush administration. . . . Illuminating." —Booklist (starred review)"Circle in the Sand could as well be called 'debacle in the sand.' It goes to the heart of a national tragedy–how two generations of Bush family mismanagement and inept strategy in Iraq may have doomed early-21st century American policy in the Middle East."—Kevin Phillips, author of American Theocracy
Advertisement