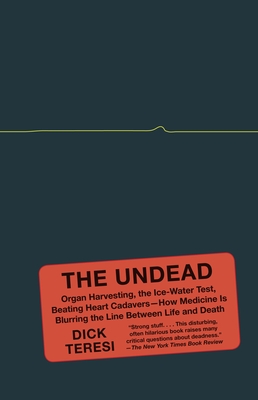 The Undead (Paperback)
Organ Harvesting, the Ice-Water Test, Beating-Heart Cadavers--How Medicine Is Blurring the Line Between Life and Death
Vintage, 9781400096114, 368pp.
Publication Date: December 11, 2012
Other Editions of This Title:
Hardcover (3/13/2012)
* Individual store prices may vary.
Description
What is death, and how do people in the medical profession determine it? In this fascinating examination of the increasingly blurred line between life and death, consciousness and unconsciousness, science journalist Dick Teresi introduces us to the coma specialists, organ transplant surgeons, ICU doctors, and many others who are faced with this issue daily. The Undead describes how death has been determined through the ages, beginning with the ancient Egyptians and leading to the 1968 Harvard Medical School paper that indirectly stated that death was not cardiopulmonary failure, but a "loss of personhood"—i.e., brain death. Teresi explores the consequences of new technologies that extend people's lives but which conflict with society's desire to see them declared dead before their time.
About the Author
Dick Teresi is the author or coauthor of several books about science and technology, most recently The God Particle and Lost Discoveries: The Ancient Roots of Modern Science, both selected as New York Times Book Review notable books. He has been editor in chief of Science Digest, Longevity, VQ, and Omni, of which he was also a cofounder, and has written for The New York Times, The Wall Street Journal, Smithsonian, The Atlantic, and Discover, among other publications.
Praise For The Undead: Organ Harvesting, the Ice-Water Test, Beating-Heart Cadavers--How Medicine Is Blurring the Line Between Life and Death…
"Strong stuff. . . . This disturbing, often hilarious book raises many critical questions about deadness."
—The New York Times Book Review
 
"Reading Dick Teresi's book is like discovering that your college class has been hijacked by the spitball-lobbing kid in the back row—and that the kid is twice as smart as the prof ever was. . . . Taking on biologists, philosophers, and the medical establishment, Teresi zestfully skewers our confused thinking about life, death, and the states in between. A pleasure to read."
—Charles C. Mann, author of 1493 and 1491
 
"An indefatigable researcher and fluid writer, Mr. Teresi provides a good long riff on death past and present."
—The New York Times
 
"Charting historical definitions of death, the thinking of research greats and debates over near-death experiences, Teresi notes that the ethical challenges are immense, asking, for instance, whether all organ donors are unrevivable."
—Nature

"The simple question Teresi asks is: 'When exactly is a person dead?' Prepare to have your assumptions shattered."
—The Globe and Mail (UK)
 
 "Chilling, controversial, and, at times, comical commentary on physical death…All sorts of experts—on coma, animal euthanasia, and execution—as well as undertakers, organ transplant staff, neurologists, ethicists, and lawyers weigh-in on the death debate."
—Booklist
 
"As I was pulled into this startling, informative account of death-defying and death-defining, I couldn't help putting a checkmark in the margin next to every line that made me gasp—or laugh—or marvel at Dick Teresi's bold, inimitable reporting style. On some pages I made as many as four checkmarks. The book left me reeling at the welter of uncertainty that surrounds the certainty of death."
—Dava Sobel, author of Longitude and A More Perfect Heaven
 
"Like a real-life version of Robin Cook's medical thriller Coma, Teresi paints a grisly picture of organ harvesting and raises uncomfortable questions: Is the donor actually dead rather than at the point of death? Might he or she be revived given time and proper medical attention?. . . . Provocative. . . . [An] examination of important ethical issues and the still-unresolved question of what constitutes death."
—Kirkus Reviews