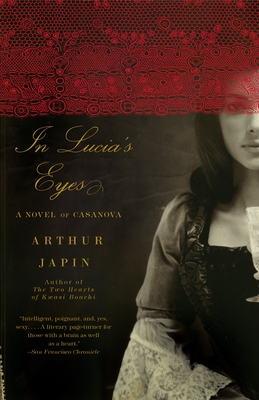 In Lucia's Eyes (Paperback)
Vintage, 9781400096121, 256pp.
Publication Date: February 13, 2007
* Individual store prices may vary.
or
Not Currently Available for Direct Purchase
Description
Lucia works as a servant girl in Italy and is engaged to be married. But after the pox disfigures her face, she flees in shame without telling her lover. Years later, as a reknowned Amsterdam courtesan who never goes out without her veil, Lucia is at the theater when she recognizes her long-lost fiance, Giacomo Casanova; and she cannot resist the opportunity to encounter him again. Based on a woman who appeared briefly in Casanova's legendary diaries, Lucia emerges as a brilliant woman who becomes every bit his match. In Lucia's Eyes is an elegant and moving story of love denied and transformed.
About the Author
Arthur Japin was born in Haarlem in 1956. He studied theater in Amsterdam and London and spent many years acting on stage, screen, and television. His first novel, The Two Hearts of Kwasi Boachi, appeared in thirteen languages and is now being made into an opera and a film. He lives in Utrecht.Arthur Japin's The Two Hearts of Kwasi Boachi is available in Vintage paperback.
Praise For In Lucia's Eyes…
"Enthralling . . . Packed with the color of 18th-century life . . . A complex examination of thwarted love . . . A marvelous reversal of hunter and prey, with a soupcon of Dangerous Liaisons . . . Lucia's slightly arch voice throbs with as much searching intelligence as sexual passion . . . What makes In Lucia's Eyes so fascinating is its melding of disparate veins: It's a painful story that arrives at profound insights about the nature of love, but it's spiked with bodice-ripper suspense and humor; it's an intensely private testimony of one woman's peculiar survival, but it's laced with a fascinating survey of 18th-century intellectual history. Brace yourself with all the skepticism you want, you'll still be seduced."–Ron Charles, Washington Post Book World"An irrisistible subject . . . Lucia is a prostitute with a 24-karat intellect. By the end of a novel that consistently pits reason against emotion, she has found the means to satisfy each."–Kathryn Harrison, New York Times Book Review"Japin has done his historical homework . . . A mesmerizing look into a Europe of long ago."–Condé Nast Traveler"A dark intrigue . . . Vivid . . . Startlingly poignant . . . unfolding in intricately plotted flashbacks and divan-rattling love scenes . . . Through Lucia, we're able to discern firsthand the secrets of Casanova's success."–Megan O'Grady, Vogue"Inspired by a character in Giacomo Casanova's History of My Life–a once beautiful girl disfigured by small pox whom the great seducer meets again in the brothels of Amsterdam–Arthur Japin spins an enthralling tale on the mystery of first love and its endurance in the face of a lifetime of hardships."–Andrea Di Robilant, author of A Venetian Affair"To see the world through Lucia's eyes is to see it in the fullness of wonders and dangers most never notice."–Paulo Coelho, author of The Alchemist
Advertisement