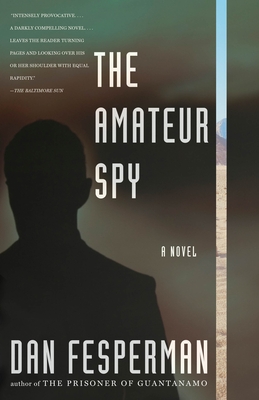 The Amateur Spy (Paperback)
Vintage Crime/Black Lizard, 9781400096152, 384pp.
Publication Date: March 10, 2009
* Individual store prices may vary.
Description
The Amateur Spy recasts the spy novel for the post-9/11 world—anyone might be watching, everyone is suspect.

Freeman Lockhart, a humanitarian aid worker and his Bosnian wife have just retired to a charming house on a Greek island. On their first night, violent intruders blackmail Freeman into spying on an old Palestinian friend living in Jordan. Meanwhile, in Washington, D.C., a Palestinian-American named Aliyah Rahim is worried about her husband, who blames their daughter's death on the U.S. anti-terror policies. Aliyah learns that he is plotting a cataclysmic act of revenge; in a desperate effort to stop him, she flies to Jordan to meet her husband's co-conspirators. There she encounters Freeman neck-deep in his own investigation. As their paths intertwine, the story rises to its fast-paced, explosive climax.
About the Author
Dan Fesperman is a reporter for the Baltimore Sun and worked in its Berlin bureau during the years of civil war in the former Yugoslavia, as well as in Afghanistan during the recent conflict. His novel Lie in the Dark won the Crime Writers' Association of Britain's John Creasey Memorial Dagger Award for best first crime novel and The Small Boat of Great Sorrows won their Ian Fleming Steel Dagger Award for best thriller.
Praise For The Amateur Spy…
"Intensely provocative. . . . Leaves the reader turning pages and looking over his or her shoulder with equal rapidity."—The Baltimore Sun"Exceptional. . . . Fesperman writes so well that it's easy to follow wherever he leads. . . . Chilling."—The Washington Post"Fesperman has mastered his genre."—San Francisco Chronicle "An unflinching look at the festering atmosphere inside a Palestinian refugee camp in Jordan."—USA Today"War correspondent Fesperman shines the light of his insider's knowledge into the dark corners of Jordan and Jerusalem in his gripping fifth thriller . . . Freeman may be an amateur spy, but Fesperman proves once again that he's a consummate professional."—Publishers Weekly"Foreign correspondent and novelist Fesperman has created another contender for his growing list of prize winners . . . The plot is complex, the sense of place powerful, and the characterization memorable . . . Fesperman expertly builds the tension."—Library Journal"More classy suspense from Fesperman."—Kirkus ReviewsPraise from the UK:"Dan Fesperman, a war correspondent with the Baltimore Sun, has served his time in Bosnia, Afghanistan and the Middle East. It shows: The Amateur Spy offers a gritty verisimilitude against a subtle political backdrop . . . Fesperman is especially good on the murky frontier where journalists, aid-workers and spies trade information, each seeking something for nothing. He is honing the genre of intelligent political thrillers. Foreign correspondents should note: they now have some new standards to match."—The Economist"Fesperman has few equals when it comes to generating tension . . . But he is equally good at characterizing his vulnerable, conflicted protagonists . . . Powerful."—Daily Express"Dan Fesperman's novels always offer interesting and thought-provoking commentary on contemporary world events and in The Amateur Spy he tackles Middle East terrorism with a story that contains a disquietingly topical element . . . A fine thriller to add to his impressive body of work."—Sunday Telegraph