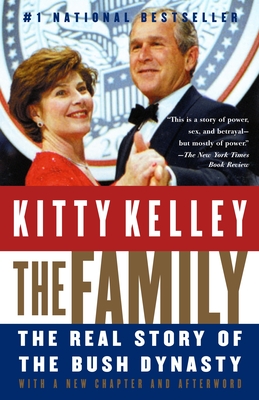 The Family (Paperback)
The Real Story of the Bush Dynasty
Anchor, 9781400096411, 784pp.
Publication Date: May 17, 2005
* Individual store prices may vary.
Description
From the First Lady of unauthorized, tell-all biography, this is the first real inside-look at the most powerful–and secretive–family in the world. From Senator Prescott Bush's alcoholism, to his son George Herbert Walker Bush's infidelities, to George Walker Bush's religious conversion, shady financial deals, and military manipulations, Kitty Kelley captures the portrait of a family that has whitewashed its own story almost out of existence.
About the Author
Kitty Kelley is the internationally acclaimed bestselling author of Jackie Oh!; Elizabeth Taylor: The Last Star; His Way: The Unauthorized Biography of Frank Sinatra; Nancy Reagan: The Unauthorized Biography; and The Royals. The last three titles were all #1 on the New York Times bestseller list. Ms. Kelley has been honored by her peers with such awards as the Outstanding Author Award from the American Society of Jouranlists and Authors, the Philip M. Stern Award, and the Medal of Merit from the Lotos Club of New York City.  Her articles have appeared in the New York Times, the Washington Post, the Wall Street Journal, Newsweek, People, Ladies Home Journal, McCall's, the Los Angeles Times, and the Chicago Tribune. She lives in Washington, D.C., with her physician husband, Jonathan Zucker.
Praise For The Family: The Real Story of the Bush Dynasty…
"This is a story of power, sex and betrayal--but mostly of power." –The New York Times Book Review"A thoroughly researched piece of work. Ms. Kelley clearly devoured and digested the extant literature on the family." –The New York Times"Kelley's account of the rise and fall of the Bush family is both inspirational and cautionary. She convincingly shows that good looks, energy, athleticism, ambition, felicitous marriages and social networking can compensate for intellectual ordinariness." –The Washington Post Book World"The Family . . . has left few stones unturned. . . . Kelley has brought new information to bear on a family that, for better or worse, deserves her kind of royal treatment." –The New York Times Book Review"A sweeping indictment of the mind-set of the [Bush] family, that they grew up feeling that this was their due." –Garry Trudeau, The Charlie Rose Show"Despite the best efforts of the media, the public is gaining insight into their president as the facts leak out and as Kitty Kelley's The Family: The Real Story of the Bush Dynasty, tops the sales chart." –Newsday"Kelley nails the evidence and, although the secretive Bush family will not like it, demonstrates beyond doubt what the American press dared not print." –The Guardian