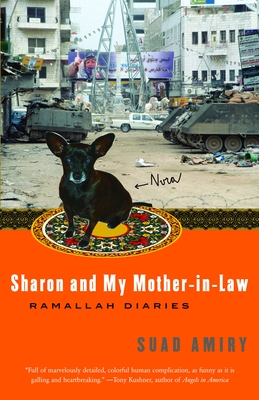 Sharon and My Mother-In-Law: Ramallah Diaries (Paperback)
Ramallah Diaries
Anchor Books, 9781400096497, 207pp.
Publication Date: September 19, 2006
Description
Based on diaries and email correspondence that she kept from 1981-2004, here Suad Amiry evokes daily life in the West Bank town of Ramallah. Capturing the frustrations, cabin fever, and downright misery of her experiences, Amiry writes with elegance and humor about the enormous difficulty of moving from one place to another, the torture of falling in love with someone from another town, the absurdity of her dog receiving a Jerusalem identity card when thousands of Palestinians could not, and the trials of having her ninety-two-year-old mother-in-law living in her house during a forty-two-day curfew. With a wickedly sharp ear for dialogue and a keen eye for detail, Amiry gives us an original, ironic, and firsthand glimpse into the absurdity--and agony--of life in the Occupied Territories.
About the Author
Suad Amiry is an architect and the founder and director of RIWAQ, Centre for Architectural Conservation, in Ramallah. She grew up in Amman, Damascus, Beirut, and Cairo, and studied architecture at the American University of Beirut and at the Universities of Michigan and Edinburgh. Amiry participated in the 1991--1993 Israeli-Palestinian peace negotiations in Washington, D.C., and from 1994 to 1996 was assistant deputy minister and director general of the Ministry of Culture in Palestine. She is the author of several books on architecture and was awarded Italy's Viareggio-Versilia Prize in 2004 for this book. She lives in Ramallah.
Praise For Sharon and My Mother-In-Law: Ramallah Diaries…
"Full of marvelously detailed, colorful human complication, as funny as it is galling and heartbreaking." –Tony Kushner, author of Angels in America

"Sharply, gloriously different . . . The seemingly casual narrative . . . works its way into your heart without asking you to hate anyone: just to hate a situation." –The Scotsman

"Powerful. . . . Extremely funny." –The Sunday Times (London)

"A literary protest done with great wit, skill, and passion. Not only is it really funny but it shows the kind of courage, vision, and humanity needed to bring peace to the Middle East." –Eve Ensler, author of The Vagina Monologues
Advertisement