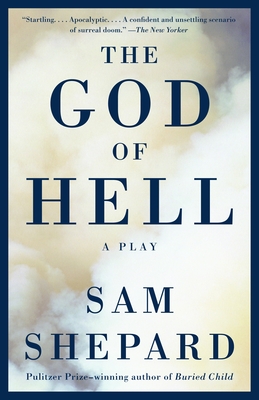 The God of Hell (Paperback)
Vintage Books USA, 9781400096510, 98pp.
Publication Date: April 12, 2005
Description
Pulitzer Prize winner Sam Shepard's latest play is an uproarious, brilliantly provocative farce that brings the gifts of a quintessentially American playwright to bear on the current American dilemma. Frank and Emma are a quiet, respectable couple who raise cows on their Wisconsin farm. Soon after they agree to put up Frank's old friend Haynes, who is on the lam from a secret government project involving plutonium, they're visited by Welch, an unctuous government bureaucrat from hell. His aggressive patriotism puts Frank, Emma, and Haynes on the defensive, transforming a heartland American household into a scene of torture and promoting a radioactive brand of conformity with a dangerously long half life.
About the Author
Sam Shepard was the Pulitzer Prize-winning author of more than fifty-five plays and three story collections. As an actor, he appeared in more than sixty films, and received an Oscar nomination in 1984 for The Right Stuff. He was a finalist for the W. H. Smith Literary Award for his story collection Great Dream of Heaven. In 2012 he was awarded an honorary doctorate from Trinity College, Dublin. He was a member of the American Academy of Arts and Letters, received the Gold Medal for Drama from the Academy, and was inducted into the Theater Hall of Fame. He died in 2017.
Praise For The God of Hell…
"Startling.... Apocalyptic.... A confident and unsettling scenario of surreal doom." –The New Yorker

"A robust new farce that shows Mr. Shepard's gift for finding deadpan surrealism in bucolic speech." –The New York Times

"Deliriously entertaining and deeply scary.... A shivering work of existential mystery." –Newsday
Advertisement