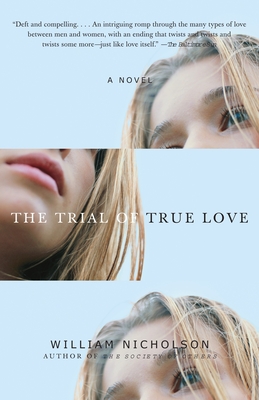 The Trial of True Love (Paperback)
Anchor Books, 9781400096619, 304pp.
Publication Date: June 12, 2007
* Individual store prices may vary.
or
Not Currently Available for Direct Purchase
Description
Bron is a thirty-year-old writer living in London, a seemingly incurable heartbreaker and dodger of commitment. He is fascinated by the symbolist artist Paul Marotte and has made the artist the center of a book he is writing about love at first sight. Bron goes to his friend's country house to work in solitude but encounters the beautiful, enigmatic Flora. Suddenly the theme of his book takes on a completely new, intensely personal dimension as Bron becomes dangerously smitten by the aloof beauty. Fast-paced, brilliantly crafted, and intellectually stimulating, The Trial of True Love is a captivating exploration of the nature of love, its elusiveness, and most of all, the universal human need to find it.
About the Author
William Nicholson is the acclaimed author of the play "Shadowlands," which was turned into a feature film starring Anthony Hopkins, for which he also wrote the screenplay. He has been the screenwriter for many other films, among them "Gladiator." His first adult novel, "The Society of Others," was published in 2005. He is also the award-winning author of the bestselling trilogy of novels for children, "The Wind on Fire."
Praise For The Trial of True Love…
"Deft and compelling. . . An intriguing romp through the many types of love between men and women, with an ending that twists and twists and twists some more - just like love itself."—The Baltimore Sun "A real find: clever, funny, subtle and hopelessly romantic. . . . The key to this novel's success is that it asks all the best questions. Does love at first sight really exist?" —Daily Express"Fascinating. . . . Fun and stimulating." —Globe and Mail (Toronto)"Like The Society of Others, William Nicholson's previous book, The Trial of True Love is shrewdly designed to lure the reader into an unsettling process of self-examination." —The Philadelphia Inquirer

Advertisement