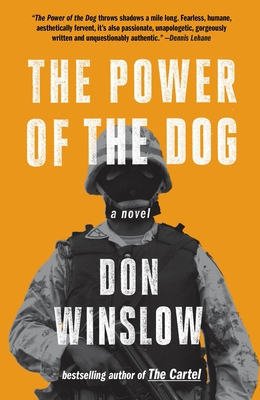 The Power of the Dog (Power of the Dog Series #1)
Paperback

* Individual store prices may vary.
Other Editions of This Title:
Digital Audiobook (4/30/2008)
Compact Disc (5/1/2008)
Compact Disc (5/1/2008)
MP3 CD (5/1/2008)
Description
From the New York Times bestselling author, here is the first novel in the explosive Power of the Dog series—an action-filled look at the drug trade that takes you deep inside a world riddled with corruption, betrayal, and bloody revenge.

Book One of the Power of the Dog Series
 
Set about ten years prior to The Cartel, this gritty novel introduces a brilliant cast of characters. Art Keller is an obsessive DEA agent. The Barrera brothers are heirs to a drug empire. Nora Hayden is a jaded teenager who becomes a high-class hooker. Father Parada is a powerful and incorruptible Catholic priest. Callan is an Irish kid from Hell's kitchen who grows up to be a merciless hit man. And they are all trapped in the world of the Mexican drug Federación. From the streets of New York City to Mexico City and Tijuana to the jungles of Central America, this is the war on drugs like you've never seen it.


Praise For The Power of the Dog (Power of the Dog Series #1)…
"The Power of the Dog throws shadows a mile long. Fearless, humane, aesthetically fervent, it's also passionate, unapologetic, gorgeously written and unquestionably authentic." —Dennis Lehane

"An express train of a thriller that cannot be put down. . . . One of this year's finest novels." —The Baltimore Sun

"A pit bull of a book. Once unleashed, this thriller . . . charges and attacks without mercy, shredding anyone in its path. . . . A well-tuned plot, driving rhythm, intelligence and a touch of politics." —The Washington Post

"You should try to get your hands on everything Winslow's written, because he's one of the best thriller writers on the planet." —Esquire 

"Blasts off like a rocket . . . The Power of the Dog burns with rage at the badly flawed U.S. war on drugs." —The San Diego Union-Tribune 

"Expansive, thought-provoking. . . . A cast of drug enforcement agents and drug dealers, government officials and religious leaders, willing participants and innocent bystanders is swept up in a dizzying tidal wave of events that horrify and shock." —Pittsburgh Tribune-Review

"Thrilling. . . . Fast-paced. . . . Epic in scope." —The Denver Post

"Tremendous. . . . This puts even the excellent The Death and Life of Bobby Z and California Fire and Life in the shade. . . . No one since James Ellroy has conveyed the morally troubled heart of the American dream with such savage aim. . . . A future classic." —The Guardian (London)

"The story is as addictive as its subject matter." —New York Post

"A miracle. . . . The best writing about Mexico by an Anglo since the days of Graham Greene. . . . [A] book you don't want to end. . . . There's no way you're going to find anything more compelling, more revealing about a major issue in society and more pulse-pounding in terms of action and
suspense than this. . . . Read it for its action, its insight into the drug underworld, its amazing prose. It's the one crime novel this year you absolutely can't ignore." —The Huntsville Times

"[A] tour de force. . . . Harrowing. . . . Complex and riveting. . . . Pack[s] one gut punch after another. . . . The best crime novel about the Western Hemisphere's drug trade . . . in many years. It will leave you stunned. . . . A book like The Power of the Dog rarely comes along, and when it does, let it break your heart and open your mind." —January Magazine

"It is impossible in a few words to do justice to Don Winslow's The Power of the Dog. . . . The hero's determination is passionately portrayed, and his personal crusade makes a memorable and thought-provoking novel." —The Daily Telegraph (London)

"The Power of the Dog is the first great dope novel since Dog Soldiers thirty years ago. It's frightening and sad, with a superbly sustained intensity. It's a beautifully compressed vision of hell, with all its attendant moral madness." —James Ellroy, author of The Cold Six Thousand

"Provocative. . . . Convincing. . . . Every character, even those doomed to be quickly ground under the wheels of fate, is a living, breathing person. . . . The story shocks, educates and puts strangely human faces on 'the problem.' . . . A very believable tale that delicately walks the line between
documentary and fiction." —Edge Boston

"Exciting. . . . Well-plotted. . . . [A] tense, brutal thriller." —The Decatur Daily

"With an epic's scope and a freight train's rush, The Power of the Dog is an absolute page-turner. I couldn't put it down and I was sorry when it ended. As always, Don Winslow delivers!" —S. J. Rozan, author of Absent Friends

"Revelatory. . . . A dynamo of a book. . . . [Winslow] brings an intense realism to a pounding account of narco-trafficking across our southern border. . . . He fuels his narrative with conviction and rocket-engine pacing . . . [and] a splendidly realized cast of characters on both sides of the law. . . . If you like an adventure into the sacred or the untouchable, take this ride." —Entertainment Today
Vintage Crime/Black Lizard, 9781400096930, 560pp.
Publication Date: May 9, 2006
About the Author
Bestselling author Don Winslow has written nineteen books and numerous short stories, as well as writing for television and film. He has received the Raymond Chandler Award, the Los Angeles Times Book Prize, and the Ian Fleming Steel Dagger Award.  A former private investigator and trial consultant, Winslow lives in Southern California.