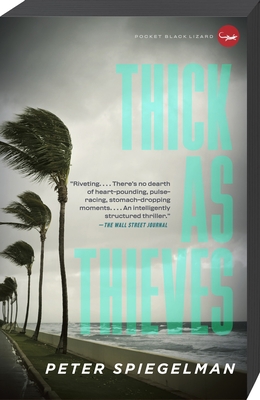 Thick as Thieves (Paperback)
Vintage Crime/Black Lizard, 9781400097050, 384pp.
Publication Date: July 10, 2012
Other Editions of This Title:
Compact Disc (7/26/2011)
Hardcover (7/26/2011)
MP3 CD (7/26/2011)
Hardcover (9/1/2011)
Paperback (2/1/2012)
Pre-Recorded Audio Player (9/1/2011)
* Individual store prices may vary.
Description
TO: Mr. Boyce
FROM: Tina
 
SUBJECT: Prager job
PRIORITY: High
 
THE SCORE:
$100 million in black money from Curtis Prager, hedge fund titan turned international criminal banker.  A hard target, but a team of seasoned pros might pull it off.
 
THE CREW:
CARR—Ex-CIA. Expert planner and organizer, but a reluctant and untested leader.
VALERIE—Chameleon, honey trap, master manipulator, and lately, Carr's lover. Has an agenda of her own—maybe more than one.
LATIN MIKE—Safecracker, muscle, a hot-headed hardcase.  Unhappy with Carr's management, but the promised payout from the Prager job has so far kept him in line.
BOBBY—Surveillance and security systems, and Latin Mike's running buddy.  If Mike is making his own play, Bobby's certain to be a part of it.
DENNIS—Ace hacker, youngest member of the team, brilliant but gun-shy.
 
The death of their old boss, Declan, on their last job, has left the crew tense and paranoid.  The Prager job could leave them set for life if they don't self-destruct first.
 
UPDATE:
A new security chief is beefing up protections around Prager's Cayman Islands front.  Carr and his crew have to tighten their already punishing timetable.  A nearly impossible job just got even harder.
About the Author
Peter Spiegelman is the author of Black Maps, which won the 2004 Shamus Award for Best First P.I. Novel, Death's Little Helpers, and Red Cat. Prior to becoming a full-time writer, Mr. Spiegelman spent nearly twenty years in the financial services and software industries, and worked with leading banks and brokerages around the world. He lives in Connecticut.
Praise For Thick as Thieves…
"Riveting. . . . There's no dearth of heart-pounding, pulse-racing, stomach-dropping moments. . . . [An] intelligently structured thriller." —The Wall Street Journal

"Slick, sophisticated, and satisfying. . . . This is thriller fiction at its best." —Lee Child
 
"Spiegelman's ability to find glimmers of morality in a story populated by rogues, thieves and worse people that makes Thick as Thieves an enjoyable visit to a dark world." —Pittsburgh Tribune-Review
 
"A pure delight. . . . Heists, money-laundering, and smart plotting in a novel that's reminiscent of Elmore Leonard's best work." —Jeffery Deaver
 
"Spiegelman, who has written three thrillers since leaving Wall Street nine years ago, is being acclaimed for bringing some of the hands-on expertise and literary grace that John LeCarre brought to espionage novels to stories of capers, heists and double crosses." —Weekend Edition, NPR
 
"Thick as Thieves takes the suspense of a typical heist caper and ratchets it up several notches. . . . An elegant feat of fictional engineering." —The Columbus Dispatch
 
"A thriller so nicely written you flip back a few pages to re-experience an especially well-turned bit of prose." —Booklist
 
"Thick as Thieves is anything but 'thick'--its sleek and subtle, with Spiegelman's rare eye for the telling detail. Thrilling in both tone and substance, these thieves will steal you away from whatever else you were doing, and leave you glad they did." —Don Winslow, author of Savages
 
"What really sets this apart is the quality of Spiegelman's writing. . . . It's not every day genre prose gets that kind of polish." —Kirkus Reviews (starred review)
 
"Thick as Thieves is part magic, part alchemy and utterly entertaining. It is what all thrillers should aspire to be, and Spiegelman is that rare writer with both the heart and talent to pull off such an ambitious undertaking." —Reed Farrel Coleman, three-time Shamus Award-winning author of Innocent Monster
 
"Thick as Thieves showcases the further development of Peter Spiegelman, one of our best writers of suspense and intrigue. His characters are forceful, smart, and his prose is supple, precise, and often poetic. Spiegelman gives us a deep inside look at scams and scammers of various sorts, and puts a big whirling plot into motion that ultimately delivers every satisfaction it promises at the start." —Daniel Woodrell, author of Winter's Bone
or
Not Currently Available for Direct Purchase