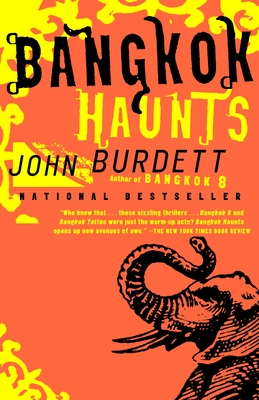 Bangkok Haunts (Paperback)
Vintage Books USA, 9781400097067, 350pp.
Publication Date: June 10, 2008
Description
Sonchai Jitpleecheep, the devout Buddhist Royal Thai Police detective who led us through the best sellers Bangkok 8 and Bangkok Tattoo, returns in this blistering novel.
Sonchai has seen virtually everything on his beat in Bangkok's District 8, but nothing like the snuff film he's just been sent anonymously. Furiously fast-paced and laced through with an erotic ghost story that gives a new dark twist to the life of our hero, Bangkok Haunts more than lives up to the smart and darkly funny originality of its predecessors.
About the Author
John Burdett is a nonpracticing lawyer who worked in Hong Kong for a British firm until he found his true vocation as a writer. He has also lived in France, Spain, and Thailand. He is the author of A Personal History of Thirst, The Last Six Million Seconds, Bangkok 8, and Bangkok Tattoo.
Praise For Bangkok Haunts…
"Who knew that . . . those sizzling thrillers . . . Bangkok 8 and Bangkok Tattoo were just the warm-up acts? Bangkok Haunts opens up new avenues of awe." —The New York Times Book Review"Bangkok Haunts is a book to be gobbled up at top speed, preferably while wearing sunglasses and drinking through a twisty straw."—The New York Times"Captivating. . . . A wonderful mystery series." —The Washington Post"Spellbinding. . . . [These] characters are scintillating." —The Boston Globe
Advertisement