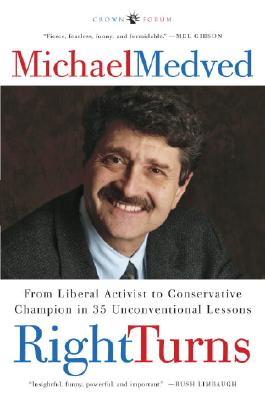 Right Turns (Paperback)
From Liberal Activist to Conservative Champion in 35 Unconventional Lessons
Three Rivers Press (CA), 9781400098323, 435pp.
Publication Date: December 27, 2005
* Individual store prices may vary.
Description
Nationally syndicated talk-radio host and noted film critic Michael Medved has taken an extraordinary journey from liberal activist to outspoken conservative. Along the way he has earned millions of admirers—and more than his share of enemies—with his disarming wit and slashing arguments on issues of pop culture and politics.

In the candid, illuminating Right Turns, Medved chronicles the lessons and adventures that changed him from a Vietnam protest leader to an optimistic promoter of American patriotism, from secularism to religion, from adventurous single guy to doting husband and father. He skewers leftist orthodoxy, revealing why the Right is right and why his former colleagues on the Left remain hopelessly wrong on every cultural, political, and social issue.
About the Author
Michael Medved is a talk-radio host and author. An honors graduate of Yale University, he lives in the Seattle area with his family.
Praise For Right Turns: From Liberal Activist to Conservative Champion in 35 Unconventional Lessons…
"Fierce, fearless, funny, and formidable." —Mel Gibson

"Insightful, funny, powerful, and important." —Rush Limbaugh

"Michael Medved's own right turns have helped many Americans discover Right thinking, and this powerful, gripping book should win many more converts." —Ann Coulter

"A provocative memoir . . . Even many of his readers who hold to very different political and social views will concede, grudgingly, the quality of Medved's intellect." —New York Times Book Review

"Right Turns is an engaging memoir and a moving tribute to America. It is also a very accessible road map for explaining the practical reasons old radicals often become older conservatives." —National Review Online

"Medved's is an indispensable voice in America's national dialogue on politics and popular culture." —Washington Post