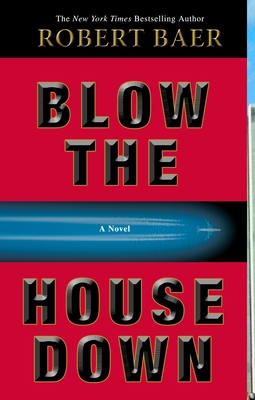 Blow the House Down (Paperback)
Three Rivers Press (CA), 9781400098361, 298pp.
Publication Date: January 2, 2007
Description
Former CIA operative Robert Baer pushes fiction to the absolute limit in this riveting and unnervingly plausible alternative history of 9/11.

Veteran CIA officer Max Waller has long been obsessed with the abduction and murder of his Agency mentor. Though years of digging yield the name of a suspect—an Iranian math genius turned terrorist—the trail seems too cold to justify further effort. Then Max turns up a photograph of the man standing alongside Osama bin Laden and a mysterious westerner whose face has been cut out, feeding Max's suspicion. When the first official to whom Max shows the photo winds up dead, the out-of-favor agent suddenly finds himself the target of dark forces within the intelligence community who are desperate to muzzle him.

Eluding a global surveillance net, Max—in the summer of 2001—begins tracking the spore of a complex conspiracy, meeting clandestinely with suicide bombers and Arab royalty and ultimately realizing the Iranian he'd sought for a decades-old crime is actually at the nexus of a terrifying plot.

Showing off dazzling tradecraft and an array of richly textured backdrops, and filled with real names and events, Blow the House Down deftly balances fact and possibility to become the first great thriller to spring from the war on terrorism.


Also available as a Random House AudioBook and an eBook
About the Author
Robert Baer spent twenty years running agents from inside the CIA's Directorate of Operations, operating against Hizballah, Al-Qaeda, and other terrorist organizations, and "was considered perhaps the best on-the-ground field officer in the Middle East" (Seymour M. Hersh, "The New Yorker"). His memoir "See No Evil" was a "New York Times" bestseller and inspired the movie Syriana starring George Clooney. He lives in Colorado. "From the Hardcover edition."
Praise For Blow the House Down…
Stunning Advance Praise for Blow the House Down

"One of the finest espionage novels I've read since the end of the Cold War. Sharp, witty, and chilling; do yourself a big favor and read this." —Nelson DeMille, author of Night Fall and The Lion's Game

"Moves at jet speed . . . a crackling spy thriller that will leave readers wondering how much may be true." —David Wise, author of Spy

"Harrowing . . . pulses with the gritty details only a former intelligence officer could know. Watch out, Tom Clancy, there's a new storyteller in town—and he's actually lived the life he writes about!" —David Ignatius, author of Agents of Innocence

"Unputdownable . . . Bob Baer has developed great characters and put them in situations that are devastatingly authentic." —Joseph J. Trento, author of The Secret History of the CIA

"Lively . . . an insider's tale about the one unforgivable sin of the intelligence world—not wanting to know." —Thomas Powers, Pulitzer Prize–winning author of Intelligence Wars

"Engrossing and challenging—how do you act when you know what really happened on September 11? Baer is so persuasive, one wonders whether he in fact did know. He certainly writes as if he did." —William F. Buckley, Jr., author of Miles Gone By and Last Call for Blackford Oakes
Advertisement