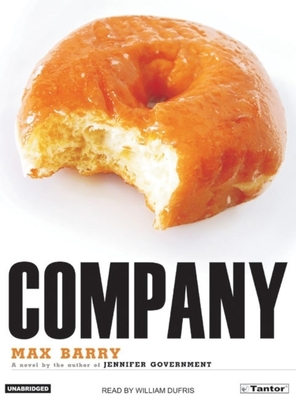 Company (Compact Disc)
Tantor Audio, 9781400102020
Publication Date: January 17, 2006
* Individual store prices may vary.
or
Not Currently Available for Direct Purchase
Description
Nestled among Seattle's skyscrapers, The Zephyr Holdings Building is a bleak rectangle topped by an orange-and-black logo that gives no hint of Zephyr's business. Lack of clarity, it turns out, is Zephyr's defining characteristic. The floors are numbered in reverse. No one has ever seen the CEO or glimpsed his office on the first (i.e., top) floor. Yet every day people clip on their ID tags, file into the building, sit at their desks, and hope that they're not about to be outsourced. Stephen Jones, a young recruit with shoes so new they squeak, reports for his first day in the Training Sales Department and finds it gripped by a crisis involving the theft of a donut. In short order, the guilty party is identified and banished from the premises and Stephen is promoted from assistant to sales rep. He does his best to fit in with his fellow workers-among them a gorgeous receptionist who earns more than anyone else, and a sales rep who's so emotionally involved with her job that she uses relationship books as sales manuals-but Stephen is nagged by a feeling that the company is hiding something. Something that explains why when people are fired, they are never heard from again; why every manager has a copy of the Omega Management System; and, most of all, why nobody in the company knows what it does. "Always entertaining, Dufris reads this story of corporate revolt with comic timing and tongue firmly planted in cheek, making it an ideal audiobook to enjoy on one's way to work." -AudioFile.
About the Author
Max Barry is the author of "Syrup" and the bestselling novel "Jennifer Government," which was chosen as a "New York Times" Notable Book.

William Dufris has been nominated nine times as a finalist for the APA's prestigious Audie Award and has garnered tweny-one Earphones Awards from "AudioFile" magazine, which also named him one of the Best Voices at the End of the Century.
Advertisement