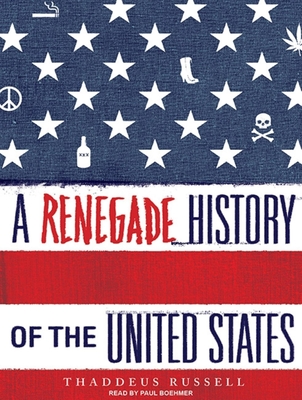 A Renegade History of the United States (Compact Disc)
Tantor Audio, 9781400118519
Publication Date: September 29, 2010
* Individual store prices may vary.
or
Not Currently Available for Direct Purchase
Description
Historian Howard Zinn demonstrated that there are compelling, alternative histories that are both scholarly and valuable. Now, Thaddeus Russell provides a challenging new way of reading history that will turn convention on its head and is sure to elicit as much controversy as it does support. Russell shows that drunkards, laggards, prostitutes, and pirates were the real heroes of the American Revolution. Slaves worked less and had more fun than free men. Prostitutes, not feminists, won women's liberation. White people lost their rhythm when they became good Americans. Without organized crime, we might not have Hollywood, Las Vegas, labor unions, legal alcohol, birth control, or gay rights. Zoot-suiters and rock-and-rollers, not Ronald Reagan or the peace movement, brought down the Soviet Union. And Britney Spears will win the war on terror. It was not the elitists who created real revolution in America nor the political radicals whom Zinn credits, but the people on the fringes of society who laid the foundation for change and were responsible for many of the freedoms we cherish today. American history was driven by clashes between those interested in preserving social order and those more interested in pursuing their own desires-the "respectable" versus the "degenerate," the moral versus the immoral, "good citizens" versus the "bad." The more that "bad" people existed, resisted, and won, the greater was our common good. In A Renegade History of the United States, Russell introduces us to the origins of our nation's identity as we have never known them before.
About the Author
Thaddeus Russell teaches history and cultural studies at Occidental College and is the author of "Out of the Jungle."

Paul Boehmer, who has appeared on Broadway, on television, and in films, narrated an award-winning unabridged recording of "Moby Dick."
Praise For A Renegade History of the United States…
"Russell writes with force and scathing humor. Narrator Paul Boehmer accurately delivers his tone.... It's hard to put this down. Renegade, indeed!" ---AudioFile
Advertisement