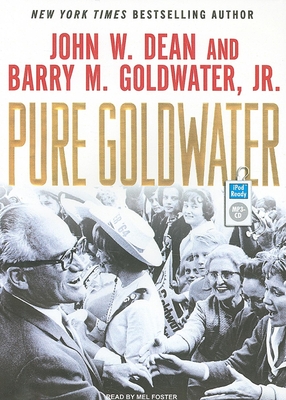 Pure Goldwater (MP3 CD)
Tantor Media Inc, 9781400157365
Publication Date: June 1, 2008
Description
Barry Goldwater was a defining figure in American public life, a firebrand politician associated with an optimistic brand of conservatism. In an era in which American conservatism has lost its way, his legacy is more important than ever. For over fifty years, in those moments when he was away from the political fray, Senator Goldwater kept a private journal, recording his reflections on a rich political and personal life. Here bestselling author John Dean combines analysis with Goldwater's own words. With unprecedented access to his correspondence, interviews, and behind-the-scenes conversations, Dean sheds new light on this political figure. From the late senator's honest thoughts on Richard Nixon to his growing discomfort with the rise of the extreme right, Pure Goldwater offers a revelatory look at an American icon-and also reminds us of a more hopeful alternative to the dispiriting political landscape of today.
About the Author
John Dean, the White House legal counsel to President Nixon, is the "New York Times" bestselling author of "Worse Than Watergate." Barry M. Goldwater, Jr., the son of Senator Barry Goldwater, served as Congressman from California for fourteen years. Since 1983, he has held positions involving finance, management, and sales.

Mel Foster has narrated over 150 audiobooks and has won several awards. Twice an Audie finalist for "1864: Lincoln at the Gates of History" by Charles Bracelen Flood and "Finding God in Unexpected Places" by Philip Yancey, he won for the latter title.
Praise For Pure Goldwater…
"An invaluable chronicle of the times." ---Publishers Weekly Starred Review
Advertisement