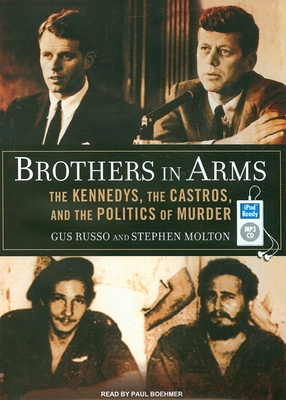 Brothers in Arms: The Kennedys, the Castros, and the Politics of Murder (MP3 CD)
The Kennedys, the Castros, and the Politics of Murder
Tantor Media Inc, 9781400159963
Publication Date: February 1, 2009
Description
Using breakthrough reporting and interviews with long-silent sources, Gus Russo and Stephen Molton have crafted a dramatic retelling of the time before, during, and after the killing of John F. Kennedy. The book centers on the two opposed sets of brothers-the Kennedys and the Castros-who collectively authored one of modern history's most dangerous, and tragically ironic, chapters. Bobby Kennedy pushed for the murder of Fidel Castro and instead got the death of his beloved brother, a psychic blow from which he himself never recovered. Lee Harvey Oswald killed an admired president and traumatized a nation, but in so doing may have prevented a third world war. Built on thirty years of intense research-including discoveries so significant that they have rekindled CIA and State Department interest in the Kennedy assassination-Brothers in Arms is a vivid, character-driven, almost cinematic narration of a singularly fascinating time. For neophytes, it is the most accessible and informed single volume on the assassination. For the many people who are fascinated by this story, this book provides extraordinary new facts that will force a reconsideration of how and why the Kennedy murder came to pass.
About the Author
Stephen Molton, the author of the novel "Brave Talk," has written films for such companies as New Line Cinema and Paramount Television. Gus Russo is the author of "Supermob," "The Outfit," and "Live by the Sword," the last two of which were nominated for the Pulitzer Prize.

Paul Boehmer graduated with a master's degree and was cast as Hamlet by the very stage actor who inspired his career path. He has worked on Broadway and extensively in regional theater, and has been cast in various roles in many episodes of "Star Trek." Paul's love of literature and learning led him by nature to his work as a narrator for audiobooks, his latest endeavour.
Praise For Brothers in Arms: The Kennedys, the Castros, and the Politics of Murder…
"A Shakespearean reckoning, lush with psychological and historical nuance, of the fateful symmetry between the personal and the political." ---Diane McWhorter, author of the Pulitzer Prize-winning Carry Me Home
Advertisement