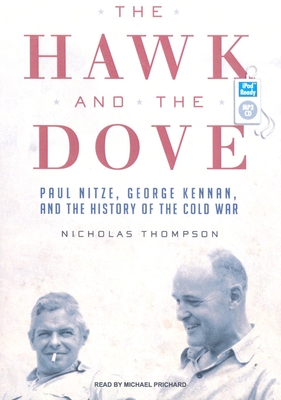 The Hawk and the Dove: Paul Nitze, George Kennan, and the History of the Cold War (MP3 CD)
Paul Nitze, George Kennan, and the History of the Cold War
Tantor Media Inc, 9781400163533
Publication Date: September 1, 2009
Description
Only two Americans held positions of great influence throughout the Cold War; ironically, they were the chief advocates for the opposing strategies for winning-and surviving-that harrowing conflict. Both men came to power during World War II, reached their professional peaks during the Cold War's most frightening moments, and fought epic political battles that spanned decades. Yet despite their very different views, Paul Nitze and George Kennan dined together, attended the weddings of each other's children, and remained good friends all their lives. In this masterly double biography, Nicholas Thompson brings Nitze and Kennan to vivid life. Nitze-the hawk-was a consummate insider who believed that the best way to avoid a nuclear clash was to prepare to win one. More than any other American, he was responsible for the arms race. Kennan-the dove-was a diplomat turned academic whose famous "X article" persuasively argued that we should contain the Soviet Union while waiting for it to collapse from within. For forty years, he exercised more influence on foreign affairs than any other private citizen. As he weaves a fascinating narrative that follows these two rivals and friends from the beginning of the Cold War to its end, Thompson accomplishes something remarkable: he tells the story of our nation during the most dangerous half century in history.
About the Author
Nicholas Thompson is senior editor at "Wired" magazine, where he covers the Internet and politics, business trends, open sourcing, technology and science, and legal issues.

Michael Prichard is a professional narrator and stage and film actor who has played several thousand characters during his career. An Audie Award winner, he has recorded well over five hundred books and has earned several "AudioFile" Earphones Awards. Michael was also named a Top Ten Golden Voice by "SmartMoney" magazine.
Praise For The Hawk and the Dove: Paul Nitze, George Kennan, and the History of the Cold War…
"A gently critical assessment of two influential shapers of U.S. foreign policy.... Fascinating." ---Kirkus
Advertisement