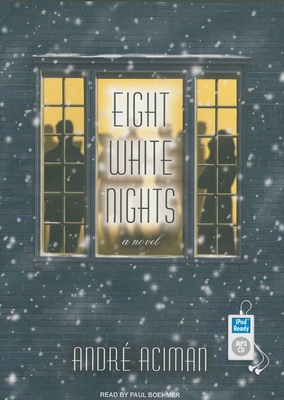 Eight White Nights (MP3 CD)
Tantor Media Inc, 9781400165735
Publication Date: February 22, 2010
Description
Eight White Nights is an unforgettable journey through that enchanted terrain where passion and fear and the sheer craving to ask for love and to show love can forever alter who we are. A man in his late twenties goes to a large Christmas party in Manhattan where a woman introduces herself with three words: "I am Clara." Over the following seven days, they meet every evening at the same cinema. Overwhelmed yet cautious, he treads softly and won't hazard a move. The tension between them builds gradually, marked by ambivalence, hope, and distrust. As Andre Aciman explores their emotions with uncompromising accuracy and sensuous prose, they move both closer together and farther apart, culminating on New Year's Eve in a final scene charged with magic and the promise of renewal. Call Me by Your Name, Aciman's debut novel, established him as one of the finest writers of our time, an expert at the most sultry depictions of longing and desire. As the Washington Post Book World wrote, "The beauty of Aciman's writing and the purity of his passions should place this extraordinary first novel within the canon of great romantic love stories for everyone." Aciman's piercing and romantic new novel is a brilliant performance from a master prose stylist.
About the Author
Andre Aciman is the author of the critically acclaimed novel "Call Me by Your Name," a "New York Times" Notable Book of the Year; the memoir "Out of Egypt"; and "False Papers: Essays on Exile and Memory."

Paul Boehmer graduated with a master's degree and was cast as Hamlet by the very stage actor who inspired his career path. He has worked on Broadway and extensively in regional theater, and has been cast in various roles in many episodes of "Star Trek." Paul's love of literature and learning led him by nature to his work as a narrator for audiobooks, his latest endeavour.
Praise For Eight White Nights…
"This is a richly intellectual novel that will resemble nothing you've ever encountered." ---The Washington Post
Advertisement