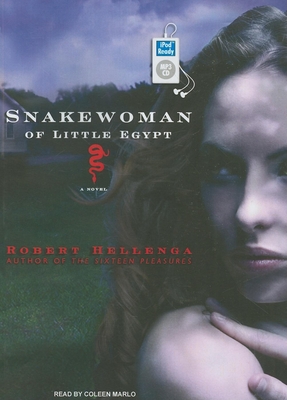 Snakewoman of Little Egypt (MP3 CD)
Tantor Audio, 9781400167913
Publication Date: September 14, 2010
* Individual store prices may vary.
Description
On the morning of his fortieth birthday, anthropology professor Jackson Jones contemplates his future: Should he go back to Africa, where he did his fieldwork, and live with the Mbuti, or should he marry and settle down in the Midwest, where he now teaches? On the morning of her release from prison, Sunny, who grew up in a snake-handling church in the Little Egypt region of Southern Illinois, rents a garage apartment from Jackson. She's been serving a five-year sentence for shooting, but not killing, her husband, the pastor of the Church of the Burning Bush with Signs Following after he forced her at gunpoint to put her arm in a box of rattlesnakes. Sunny and Jackson become lovers, but they're pulled in different directions. Sunny, drawn to science and eager to put her snake-handling past behind her, enrolls at the university. Jackson, however, takes a professional interest in the religious ecstasy exhibited by the snake handlers. Push comes to shove in a novel packed with wit, substance, and emotional depth. Snakewoman of Little Egypt delivers Robert Hellenga at the top of his form.
About the Author
Robert Hellenga is the author of the novels "The Sixteen Pleasures," "The Fall of a Sparrow," "Blues Lessons," "Philosophy Made Simple," and "The Italian Lover."

Coleen Marlo is an accomplished actor and multi-award-winning audiobook voice artist and producer. In 2010 she was named Audiobook Narrator of the Year by "Publishers Weekly," and she won the Audie Award for Literary Fiction in 2011. She has won numerous "Publishers Weekly" Listen-Up Awards and is an "AudioFile" Earphones Award winner.
Praise For Snakewoman of Little Egypt…
"The serpentine story solidifies into a captivating and original take on the strange ways of redemption." ---Publishers Weekly