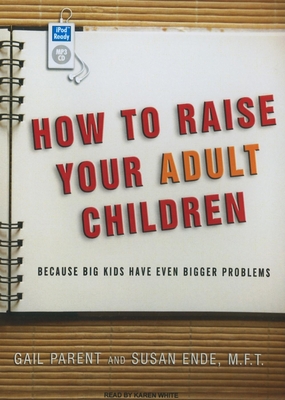 How to Raise Your Adult Children: Because Big Kids Have Even Bigger Problems (MP3 CD)
Because Big Kids Have Even Bigger Problems
Tantor Media Inc, 9781400168309
Publication Date: August 5, 2010
Description
There are many books out there to teach you how to handle your children after they graduate from diapers, but none tells you how to proceed once they graduate from high school. As new patterns emerge in the lives of young adults, parents find that their grown children have bigger problems than they did just a few years ago. How to Raise Your Adult Children is a manual for anxious moms and dads. Whether confronting the question of setting a curfew for a college kid at home or paying for a forty-year-old daughter's wedding, two "been there, done that" moms give advice with an edge on a variety of emotionally and financially perilous situations, including: -Your kid needs money-your money -Your kid moves back home and stays home -You know your child should not marry his or her significant other -Your big children keep dumping their little children on you Combining the wit of Emmy Award-winning writer Gail Parent and the insight of psychotherapist Susan Ende, this book answers questions most parents never imagined they would have to ask.
About the Author
Susan Ende, M.F.T, is a psychotherapist and has taught at the California Institute of Technology, Pepperdine University, and California State University at Los Angeles. Gail Parent is an Emmy Award-winning writer and producer and the bestselling author of "Sheila Levine Is Dead and Living in New York."

Karen White has been narrating and directing audiobooks for more than a dozen years and has well over one hundred books to her credit. Honored to be included among "AudioFile"'s Best Voices 2010 and 2011, she is also an Audie Award finalist and has earned multiple "AudioFile" Earphones Awards for narration and direction.
Advertisement