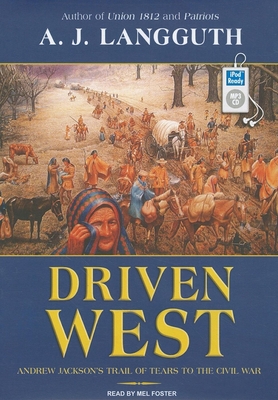 Driven West: Andrew Jackson's Trail of Tears to the Civil War (MP3 CD)
Andrew Jackson's Trail of Tears to the Civil War
Tantor Media Inc, 9781400168491
Publication Date: November 24, 2010
Description
By the acclaimed author of the classic Patriots and Union 1812, this major work of narrative history portrays four of the most turbulent decades in the growth of the American nation. After the War of 1812, Presidents Monroe, Jackson, Van Buren, and Polk led the country to its Manifest Destiny across the continent, but the forces and hostility unleashed by that expansion led inexorably to Civil War. As president, Andrew Jackson decreed that the Indians of Georgia be forcibly removed to make way for the exploding white population. His policy set off angry debate in the Senate among such giants as Henry Clay, John Calhoun, and Daniel Webster, and protests from writers in the north like Ralph Waldo Emerson, who represented the growing abolitionist movement. Southern slave owners understood that those protests would not stop with defending a few Indian tribes.
About the Author
A. J. Langguth is the author of almost a dozen books, including "Union 1812"; "Patriots: The Men Who Started the American Revolution"; and "Our Vietnam: The War, 1954-1975."

Mel Foster has narrated over 150 audiobooks and has won several awards. Twice an Audie finalist for "1864: Lincoln at the Gates of History" by Charles Bracelen Flood and "Finding God in Unexpected Places" by Philip Yancey, he won for the latter title.
Praise For Driven West: Andrew Jackson's Trail of Tears to the Civil War…
"This work is sure to be controversial among western expansion and Civil War scholars and as such is highly recommended for individuals with interests in Cherokee and Civil War history." ---Library Journal Starred Review
Advertisement