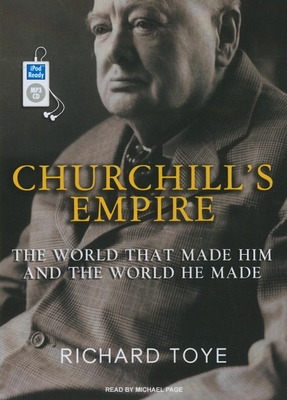 Churchill's Empire: The World That Made Him and the World He Made (MP3 CD)
The World That Made Him and the World He Made
Tantor Media Inc, 9781400168712
Publication Date: August 9, 2010
Description
A charmer and a bully, Winston Churchill was driven by a belief that the English were a superior race whose goals went beyond individual interests to offer an enduring good to the entire world. No better example exists than Churchill's resolve to stand alone against a more powerful Hitler in 1940 while the world's democracies fell to their knees. But there is also the Churchill who frequently inveighed against human rights, nationalism, and constitutional progress-the imperialist who could celebrate racism and believed India was unsuited to democracy. Drawing on newly released documents and an uncanny ability to separate the facts from the overblown reputation (by mid-career Churchill had become a global brand), Richard Toye provides the first comprehensive analysis of Churchill's relationship with the empire. Instead of locating Churchill's position on a simple left/right spectrum, Toye demonstrates how the statesman evolved and challenges the listener to understand his need to reconcile the demands of conscience with those of political conformity.
About the Author
Richard Toye is an associate professor in the Department of History at the University of Exeter, United Kingdom, and the author of "Lloyd George and Churchill: Rivals for Greatness."

Michael Page has been recording audiobooks since 1984 and has over two hundred titles to his credit. He has won several "AudioFile" Earphones Awards, including for "The War That Killed Achilles" by Caroline Alexander and "The Lies of Locke Lamora" by Scott Lynch.
Praise For Churchill's Empire: The World That Made Him and the World He Made…
"A probing and thoroughly enjoyable life focusing on the contradictions and dilemmas of Churchill's imperialism." ---Publishers Weekly Starred Review
Advertisement