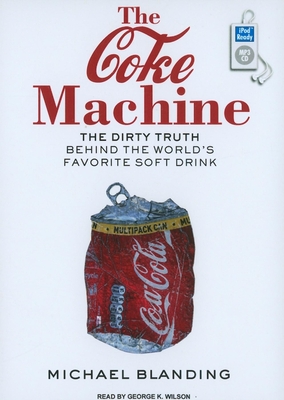 The Coke Machine: The Dirty Truth Behind the World's Favorite Soft Drink (MP3 CD)
The Dirty Truth Behind the World's Favorite Soft Drink
Tantor Media Inc, 9781400168941
Publication Date: September 16, 2010
* Individual store prices may vary.
or
Not Currently Available for Direct Purchase
Description
Ever since its "I'd Like to Teach the World to Sing" commercials from the 1970s, Coca-Cola has billed itself as the world's beverage, uniting all colors and cultures in a mutual love of its caramel-sweet sugar water. The formula has worked incredibly well, making it one of the most profitable companies on the planet and Coca-Cola the world's second-most-recognized word after hello. However, as the company expands its reach into both domestic and foreign markets, an increasing number of the world's citizens are finding the taste of Coke more bitter than sweet. Journalist Michael Blanding's The Coke Machine probes shocking accusations about the company's global impact, including: -Coca-Cola's history of winning at any cost, even if it meant that its franchisees were making deals with the Nazis and Guatemalan paramilitary squads -How Coke has harmed children's health and contributed to an obesity epidemic through exclusive soda contracts in schools -The horrific environmental impact of Coke bottling plants in India and Mexico, where water supplies have been decimated while toxic pollution has escalated -That Coke bottlers stand accused of conspiring with paramilitaries to threaten, kidnap, and murder union leaders in their bottling plants in Colombia A disturbing portrait drawn from an award-winning journalist's daring, in-depth research, The Coke Machine is the first comprehensive probe of the company and its secret formula for greed.
About the Author
Michael Blanding is a Boston-based investigative journalist whose work has appeared in the "Nation," the "New Republic," "Slate," the "Boston Globe Magazine," and "Boston." He is currently a senior fellow at the Schuster Institute of Investigative Journalism at Brandeis University and the author of "The Coke Machine: The Dirty Truth Behind the World's Favorite Soft Drink."

George K. Wilson has narrated over one hundred fiction and nonfiction audiobook titles, from Thomas L. Friedman to Thomas Pynchon, and has won several "AudioFile" Earphones Awards.
Praise For The Coke Machine: The Dirty Truth Behind the World's Favorite Soft Drink…
"Put down your soda, read The Coke Machine, and join the global movement to rein in unaccountable corporations." ---Barbara Ehrenreich, author of Brightsided
Advertisement