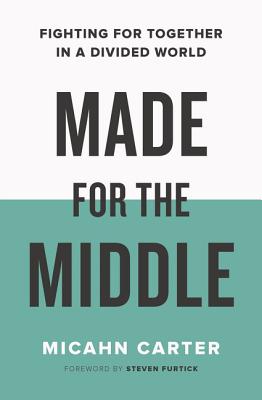 Made for the Middle (Paperback)
Fighting for Together in a Divided World
Thomas Nelson, 9781400208968, 240pp.
Publication Date: June 11, 2019
* Individual store prices may vary.
Description
With so many hot-button issues causing divisiveness in our culture, many Christians are struggling to live out their faith. There is a way, says Micahn Carter. Jesus modeled it perfectly: He stood strong in the middle of tension and loved people outside of His comfort zone.
Growing up in a home mired in conflict, Micahn Carter learned how to unify people at an early age. As a young adult, he was skilled at understanding all sides of an issue and building togetherness. Then he became the pastor of a small, predominantly African-American church in downtown Yakima, Washington, where he reached out to people of different cultures, races, relationships, and opinions. Within a few years, Together Church grew into a thriving, multi-racial community of several thousand members that now spans three campuses.
In Made for the Middle, he reminds Christians that God sent his Son to die for broken humanity so that reconciliation could be a new way of life--reconciliation between God and man, and through the power of Jesus, reconciliation among humankind.
Made for the Middle provides a roadmap for resisting the urge to pick a side in the latest cultural debate and fighting instead for unity, for together, for love. Transformation is possible only when we take the time to build relationship, to seek to understand, and to follow Jesus's example of creating unity.
or
Not Currently Available for Direct Purchase