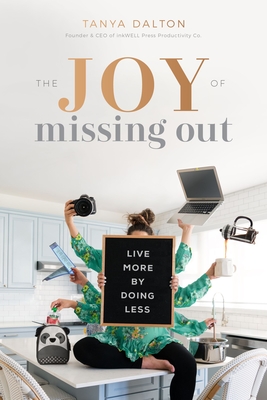 The Joy of Missing Out
Live More by Doing Less
Hardcover

* Individual store prices may vary.
Other Editions of This Title:
Digital Audiobook (9/30/2019)
Paperback (11/24/2020)
MP3 CD (10/1/2019)
Paperback, Chinese (7/29/2020)
Compact Disc (10/1/2019)
Description
This book is two things. It's an eye-opener to the fact that we don't have to do a million things to be productive (or successful). And it's a coach that helps us trim the fat, get real with our purpose, and start living more intentionally-Goop
Dalton helps readers by teaching us to focus on the most important things and create our own operating systems that are exclusive to our lives as individuals. By doing this, we can simplify and make life even better- San Francisco Book Review
Dalton's ground-up approach to productivity teaches readers to identify their real priorities and, in doing so, cut their massive to-do lists down to size by learning to say no to the tasks that pull them away from their North Star-Grateful
Overwhelmed. Do you wake up in the morning already feeling behind? Does the pressure of keeping it all together make you feel anxious and irritable?
Tanya Dalton, CEO and productivity expert, offers you a liberating shift in perspective: feeling overwhelmed isn't the result of having too much to do -- it's from not knowing where to start.
Doing less might seem counterintuitive, but doing less is more productive, because you're concentrating on the work you actually want to be doing. Through this book, you can learn how to:
Identify what is important to you and clarify your priorities.
Develop ways to streamline your specific workflow.
Discover your purpose.
Named Top 10 Business Book of the Year by Fortune magazine, The Joy of Missing Out is chock-full of resources and printables. This is a legitimate action plan for change. Once you reject the pressure to do more, something amazing happens: you discover you can finally live a guilt-free, abundant life.
Thomas Nelson, 9781400214334, 240pp.
Publication Date: October 1, 2019
1. What does being productive mean to you? Does productive mean getting a lot of tasks crossed off your to-do list or does it mean doing work that satisfies you? How do you think your idea of productivity might change after reading this book?
2. What did you think of Tonya's definition of overwhelm? She shares "Overwhelm isn't having too much to do, it's not knowing where to start." Do you agree or disagree with this idea? How do you feel when you don't know what to work on next or where to begin your day?
3. Have you witnessed "the glorification of busy" with your friends or coworkers? In what ways? When you think of your ideal day, what is missing?
4. Do you often connect your self-worth to how busy you are throughout your day?
5. Is there one main role you closely identify with? (It might be mom, career woman, caregiver, student or something else.) Do you think you could add an and to this role? How do you want to define yourself? What would life look like if you added a little and?
6. Are you choosing your own path and priorities in life? Do you think there are other people or things that are trying to choose for you?
7. How do you feel about the time you've spent in your life so far? Do you feel you've invested your time well?
8. How do you want your friends and family to describe you? Does that desire help you begin to identify your North Star?
9. What kinds of distractions do you deal with on a regular basis? What can you do to eliminate those?
10. What tasks are you efficiently doing? Can you take things slower and remind yourself to use your time effectively so you focus on quality not quantity?
11. How does the idea of getting rid of your to-do list make you feel?
12. Which of your demanding tasks drain your energy? Is there a way to break these tasks down to "eat the elephant" and make them easier?
13. What are your Million Dollar Minutes during your busy days? If you don't think you have any, take another look at your day and think about the moments of gratitude—

those Million Dollar Minutes are often hidden there.
14. What choices are you making that add stress to your life? What changes can you make to ensure that you treat your priorities as actual priorities?
15. Is it easier for you to say yes to others than it is to yourself? When you think about the idea that "every time you say yes, you are saying no to something else," what have you been saying no to?
or
Not Currently Available for Direct Purchase