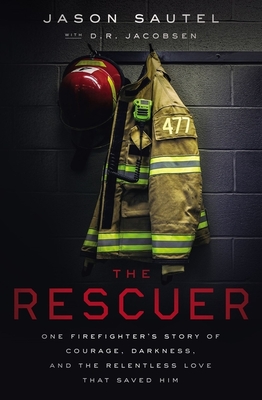 The Rescuer
One Firefighter's Story of Courage, Darkness, and the Relentless Love That Saved Him
Hardcover

* Individual store prices may vary.
Other Editions of This Title:
Digital Audiobook (8/31/2020)
Paperback (12/7/2021)
MP3 CD (9/1/2020)
Compact Disc (9/1/2020)
Description
He helped save people every day--but he had no idea how to save himself.
Jason Sautel had it all. Confident in his abilities and trusted by his fellow firefighters, he was making a name for himself on the streets of Oakland, California. His adrenaline-fueled job even helped him forget the pain of his childhood--until the day he looked into the eyes of a jumper on the Bay Bridge and came face to face with a darkness he knew would take him down as well.
In the following months, a series of traumatic emergency calls--some successful, others impossible-to-forget failures--drove Jason deeper into depression. Even as he continued his lifesaving work, he realized he could never rescue everyone, and he had no idea how to save himself.
In the end, Jason was forced to confront the truth: only the relentless power of love could pull him back from his own deadly fall. Action-packed, spiritually honest, and surprisingly romantic, The Rescuer transports readers inside the pulse-pounding world of firefighting and into the heart of a man who needed to be broken before he could finally be made whole.
Thomas Nelson, 9781400216475, 208pp.
Publication Date: September 1, 2020
Chapter 1: A Bridge to Evil
1. What prompted you to read this book?
2. What are you hoping to learn or gain from reading this book?
3. What prior knowledge do you have of the life of paramedics and firefighters?
4. What have you used to numb emotional pain?
5. How would you describe the feeling of hopelessness to someone who has never experienced it before?
6. Have you ever felt powerless against fear and pain? If so, how did you overcome it?
Chapter 2: Whose Fault Was It?
1. Where is your home away from home? What gives you comfort there?
2. When do you feel the rush of adrenaline? How does that rush help you push aside fears and doubts?
3. How did you feel reading the passage that described the author's experience in the burning house?
4. When have you had to push aside your emotions in order to complete a job?
5. When have you lashed out at someone because you were overwhelmed with all that you were experiencing physically, mentally, and emotionally?
6. That author states that he had a "closet of fear" that he carried with him. Where have you stored your fear?
7. When have you made promises to yourself that you didn't have the power to keep? What were the results?
Chapter 3: The Familiar Darkness


1. Why does compassion often come with pain?
2. What painful pieces have you picked up in life, whether from your personal experiences or by helping others through theirs? What marks have they left on you?
3. When have you felt as though the work you did wasn't enough?
4. When has your home felt more like a curse or a mockery of your emotions? What did you do during that time?
Chapter 4: Day Off
1. Where do you go when you need to be centered?
2. Why do we often feel as though we can't share our pain with others?
3. How can it be harmful to keep your pain to yourself?
4. Have you ever felt as though you had a black hole inside you? If so, describe your experience.
Chapter 5: Apartment #312
1. Why is it important to share meals with those with whom you are close, whether family or coworkers?
2. What resources are available in your community for people who don't have food, electricity, or other necessities?
3. Why is it sometimes difficult for us to help others without judging their circumstances?
4. Why is it important to help others without judgment?
Chapter 6: Mr. Wei's Donuts and Chinese Cuisine
1. Who are the people in your community who are usually dismissed by others?
2. Have you had a conversation with someone whom other people typically avoid? If so, what was your experience? What surprised you about your conversation?
3. What vices do people often turn to in order to cope with mental illness? How can this cause them to lose their possessions and loved ones?
4. Has anyone thanked you for blessing them? How did it make you feel?
5. Who first told you about what it means to be a Christian? What did you think when you first heard about it?
6. Have you ever felt as though parts of the Bible weren't reaching you? If so, what parts were they, and why do you think you had trouble absorbing them?
Chapter 7: Jaws of Life
1. When have you chased the wrong things? How long did it take you to realize it?
2. Why do you think assumptions can lead to death when responding to emergencies?
3. What affected you the most about reading this chapter?
Chapter 8: Dress Code
1. When has your body reacted physically to something you've experienced?
2. Why do you think we tend to relive our worst memories when we suffer from anxiety, depression, or fear?
3. What was your experience with church as a child? How has your perception of church changed over time?
4. What do you think prompts people to go to church for the first time?
5. What do you think might prevent some people from attending church?
6. When have you seen or experienced an unwelcome atmosphere in a church? How did it affect you?
7. What do you think churches can do to be more approachable and open to those who want to visit for the first time?
Chapter 9: Ready
1. What is your previous knowledge of suicide?
2. What kind of questions can you ask someone if you are worried about their mental health?
3. When have you heard the voice in your head insisting that you do something in particular? What was it you felt you were supposed to do, and why do you think you felt that way?
4. When has someone contacted you or entered your life at just the right moment? How did their presence change things for you?
Chapter 10: Mother's Day
1. How is being alive different from fully living?
2. What is your status quo in life right now? What parts would you like to change?
3. Describe what your family was like as you were growing up. What are your best memories of them? Your worst?
4. Do you ever "check out" of conversations with certain people? If so, with whom? Is there a way you could repair the relationship in a healthy way?
Chapter 11: Alone
1. When have you felt the most alone?
2. Who have you seen set an example of serving others?
3. How do you want people to remember you? What changes do you need to make in order for that to happen?
4. Why do you think people try to hide their true selves away from the world, and what do they use to do so? Why can this be harmful?
Chapter 12: House of Love
1. Who in your life seems to have so much love that they can give it away freely? How does it make you feel to be around that person?
2. When have you been surprised by being comforted by someone?
3. Why is it important to remember that we are always able to help others learn about God, no matter the circumstances?
Chapter 13: Girl Time
1. Who in your life fills you with feelings of goodness when you are around them?
2. What are your experiences with truly falling in love?
3. How can joy help heal emotional wounds?
4. What brings you joy?
Chapter 14: Rescue
1. When have you been faced with two choices that both seemed less than ideal? How did you make your decision?
2. Have you had to disobey orders from someone in authority in order to do what you believed to be the right thing? If so, describe your experience.
3. Do you think you would voluntarily put your life at risk in order to rescue a stranger? Why or why not? If you already have a career that puts your life in danger regularly in order to save lives, how do you feel about it?
4. How does having something to look forward to help you get through difficult times? What are you looking forward to right now?
Chapter 15: First Date
1. When have you been praised for something you feel didn't deserve praise?
2. Which of your relationships lift you up when you are feeling down?
3. If you've experienced depression, how would you explain the difference between depression and sadness?
4. Why is honesty and authenticity important in relationships?
Chapter 16: Hit and Running
1. Do you tend to follow rules or your heart?
2. When have you tried to guard yourself against feeling happy? Why did you feel it was necessary to protect yourself from it?
3. When have you felt the need to shield your loved ones from some of the worst things you've experienced? Why did you feel that it was best to keep the information to yourself?
Chapter 17: Uncharted Territory
1. When has someone's love felt like medicine to you?
2. Why might accepting love be difficult for someone who is suffering from depression or mental illness?
3. If someone asked you where they should begin their quest to learn about Jesus, what would you tell them?
4. Who in your life shines with love and goodness from God? When have you witnessed others drawing near to them because they want to be near such goodness?
5. Why is it important to know that everyone has problems and issues to work through?
Chapter 18: The Firehouse and the World Outside
1. Have you had a near-death experience? How did it affect your faith?
2. How has God pursued you over the years? How has your relationship with him changed because of his work in your life?
3. Do you have a specific "time of life" when you realized that you were saved? If so, what prompted it?
4. How does it make you feel to know that God can save anyone no matter how many times they've made mistakes?
5. How does it make you feel to talk to others about God? Why do you feel that way?
6. What did you enjoy about this book?
7. What was the most difficult rescue story for you to read in this book, and why?
8. What did you learn from reading this book?