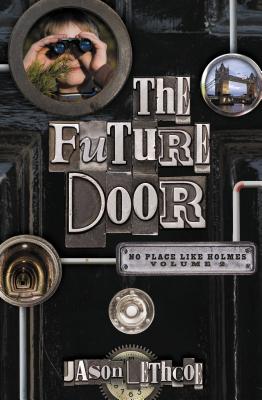 The Future Door (Paperback)
Thomas Nelson Publishers, 9781400317301, 209pp.
Publication Date: December 5, 2011
Description
"Think Treasure Island's Jim Hawkins and Encyclopedia Brown rolled into one adventurous, ingenious, God-fearing lad, and you get the idea. Fun, suspenseful, and unpredictable, the No Place Like Holmes books are fantastic reads, and author Jason Lethcoe is a fine craftsman of words to boot. I highly recommend this series." --Robert Liparulo, bestselling author of Dreamhouse Kings and The 13th Tribe
A mystery is afoot at 221 Baker Street, but will Griffin Sharpe be able to figure out the clues before the future catches up with the past?
When Sherlock Holmes moves out of Baker Street, a new tenant moves in--a mysterious woman named Elizabeth who has long been a fan of Holmes. When she discovers that Griffin and his uncle are also detectives, she becomes very friendly. So when Elizabeth goes missing along with a special invention, Griffin sets out to rescue her. But finding Elizabeth will take them on a race against the clock that bends time itself
"The No Place Like Holmes books will capture you on first page and not let you go until the final fascinating twist and turn. Jason Lethcoe is an excellent writer with the ability to craft a story that entertains all readers (adults are welcome to take a peek )." --Robert Whitlow, bestselling author of the Tides of Truth series
Advertisement