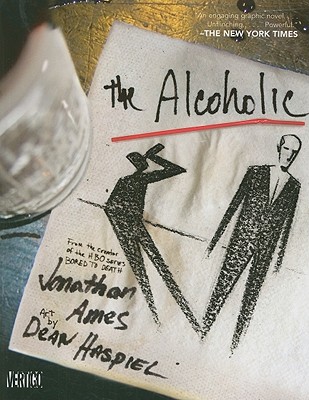 The Alcoholic (Paperback)
Vertigo, 9781401210571, 136pp.
Publication Date: September 22, 2009
* Individual store prices may vary.
or
Not Currently Available for Direct Purchase
Description
Acclaimed novelist and creator of HBO's new series -Bored to Death- Jonathan Ames writes his first comics work with the original graphic novel THE ALCOHOLIC, illustrated by THE QUITTER artist Dean Haspiel.
This touching, compassionate, ultimately humorous story explores the heart of a failing writer who's coming off a doomed romance and searching for hope. Unfortunately, the first place his search takes him is the bottom of a bottle as he careens from one off-kilter encounter to another in search of himself.
About the Author
Jonathan Ames is a columnist, author, screenwriter, raconteur and sometime pugilist who resides in New York City. He is the author of several collections of journalism and novels including I Pass Like Night and Wake Up, Sir! Dean Haspiel is the Eisner award-nominated artist of Billy Dogma, Opposable Thumbs and many more independent comics, including American Splendor.
Praise For The Alcoholic…
From Booklist
With stints as a journalist, novelist, and screenwriter under his belt, Ames tries his hand for the first time at the graphic novel. Beautifully illustrated in moody, expressionist panels by Haspiel, The Alcoholic tells the story of Ames' alter ego, Jonathan A., and his self-destructive love affair with the bottle. Jonathan's taste for liquor begins, as for many with his affliction, during illicit high-school parties. From there, his binges follow their own unique trajectory, keeping pace with an undistinguished college career and following him into an oddly successful livelihood as writer of hard-boiled detective fiction. Ames lends a quirky flavor to Jonathan's occasionally nightmarish narrative by eavesdropping on his relationship with his aging great-aunt; the perplexing estrangement of his best friend, Sal; a heartbreaking romance with a woman he refers to as "San Francisco"; and a drunken midlife tryst with an octogenarian dwarf. Yet Jonathan's tale is ultimately a universal one, reflecting the struggles all of us have in navigating the tributaries of career and relationships while keeping personal demons at bay. --Carl Hays

Rarely does a collaboration produce a graphic novel of such literary and artistic merit. -- Kirkus Reviews June 16, 2008

THE ALCOHOLIC is gonna be hard to top as my favorite original graphic novel of the year. -- Brian K. Vaughan, writer Y: THE LAST MAN

this hilarious, wrenching story gorgeously illustrated in a graphic novel is a flat-out thrill. -- Bret Easton Ellis, author LESS THAN ZERO, AMERICAN PSYCHO
Advertisement