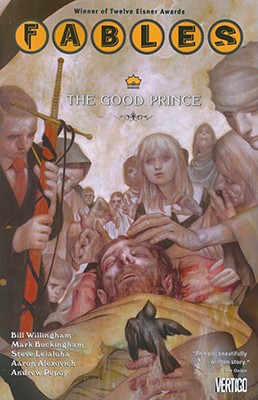 Fables Vol. 10 (Paperback)
The Good Prince
Vertigo, 9781401216863, 240pp.
Publication Date: June 17, 2008
* Individual store prices may vary.
Description
Collecting issues #60-69 of the hit series, collecting the epochal "Good Prince" storyline. Flycatcher is drawn into the spotlight as he discovers the startling truth about his own past as the Frog Prince. At the same time, he learns that the Adversary plans to destroy his foes once and for all. How can the meek Flycatcher stop this deadly foe?
About the Author
Bill Willingham has been writing, and sometimes drawing, comics for more than 20 years. During that time, he's had work published by nearly every comics publisher in the business, and he's created many critically acclaimed comic book series, including Elementals, Coventry, Proposition Players, and of course the seminal Vertigo series Fables, as well as its spin-off series Fairest, Jack of Fables and The Literals. His work has been nominated for many awards, including the Eisner, Harvey, and Ignatz comic industry awards and the International Horror Guild award. He lives somewhere near a good poker room.

Born in 1966 in the English seaside town of Clevedon, Mark Buckingham has worked in comics professionally for the past twenty years. In addition to illustrating all of Neil Gaiman's run on the post-Alan Moore Miracleman in the early 1990s, Buckingham contributed inks to The Sandman and its related miniseries Death: The High Cost of Living and Death: The Time of Your Life as well as working on various other titles for Vertigo and Marvel through the end of the decade. In 2002 he took over as the penciller for Bill Willingham's Fables, which has gone on to become one of the most popular and critically acclaimed Vertigo titles of the new millennium. When not in Clevedon, Buckingham can be found with his wife Irma in the Asturias region of northern Spain.
or
Not Currently Available for Direct Purchase