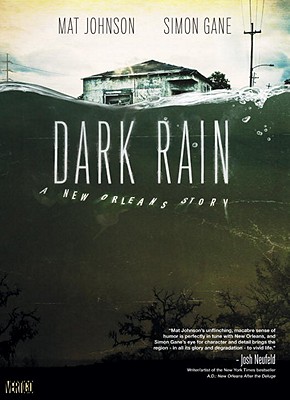 Dark Rain
A New Orleans Story
Hardcover

* Individual store prices may vary.
Other Editions of This Title:
Paperback (8/16/2011)
Paperback (10/1/2011)
Description
In the days after Hurricane Katrina, two men who fell through society's cracks travel to evacuate New Orleans to pull off the bank heist of a lifetime. Up against the clock and eluding armed competitors, the men find themselves in the middle of one of the greatest humanitarian disasters in American history. All around them, the institutions that form the pillars of our society are falling apart. Surrounded by death and misery, the men face a moral challenge greater than any other obstacle they've had to overcome. Is it possible to beat the system, even when it lies in ruins? Can they save even one person--or themselves? Or will those institutions come crashing down right on top of them?
Praise For Dark Rain: A New Orleans Story…
"Alternately funny and moving, but always focused on a very sharp but simple story... More than a couple of moments almost brought tears to my eyes. In the end the book is very optimistic, offering hope to those who choose to do the right thing."
— HUFFINGTON POST


"DARK RAIN manages to entertain and inform about the human condition -- it's a well-grounded look at the different ways humans react to situations. Simon Gane's art is a perfect accompaniment to Mat Johnson's tale."
 — Denver WESTWORD

Johnson's masterful tale of loss and redemption is a real treat. Read and savor it before some sharp Hollywood producer makes a movie out of this rich gumbo of characters whose humanity and dignity fuel their fight for survival. Gane's deceptively lithe art captures action and emotion with wit, grit and grace.
— MIAMI HERALD


"After reading DARK RAIN, I can honestly say that Mat Johnson has become one of my favorite comics writers. INCOGNEGRO wowed me a couple of years ago, and DARK RAIN is equally impressive. ...Johnson draws both the good and bad of the post-Katrina landscape in his characters, while Simon Gane's pen and ink artwork enhances the story without ever overpowering it."
— LARGEHEARTED BOY

"A pretty ripping heist/caper story. . . . A really well-crafted story. This is a movie waiting to happen. . . Simon Gane's art captures both the majesty and little moments that a great director might." –UNDER THE RADAR


"Mat Johnson's unflinching, macabre sense of humor is perfectly in tune with New Orleans, and Simon Gane's eye for character and detail brings the region — in all its glory and degradation — to vivid life. Together, Johnson and Gane dredge up nightmarish memories of the dark days following Hurricane Katrina."

— Josh Neufeld, writer/artist of the New York Times Bestseller A.D.: New Orleans After the Deluge

 
"DARK RAIN has the twists of The Treasure Of the Sierra Madre, the political punch of When The Levees Broke and the character interplay of The Defiant Ones.  Mat Johnson's unique voice holds the whole thing together and makes it fresh and new."

— Reginald Hudlin writer of BLACK PANTHER, director of BOOMERANG 

"Dark Rain is a stiff cocktail that will knock you down and set you up. Mat Johnson's ability to use the medium of the graphic novel... is second to none"
— Alice Randall,  New York Times bestselling author of author of The Wind Done Gone and Rebel Yell

"At once heart-stopping and heartbreaking, Dark Rain shows us what happens when good people avert their eyes as crimes are committed and then rationalize what they've done.  Mat Johnson as always displays his deft and savage touch in injecting humanity into history."
  
— Mark Winegardner, New York Times best-selling author of The Godfather Returns.

"Captures images of Katrina more vividly than CNN dared at the time.... , DARK RAIN is a 21st century parable told in words and pictures." — CRIMESPREE MAGAZINE
Vertigo, 9781401221607, 160pp.
Publication Date: August 24, 2010
or
Not Currently Available for Direct Purchase