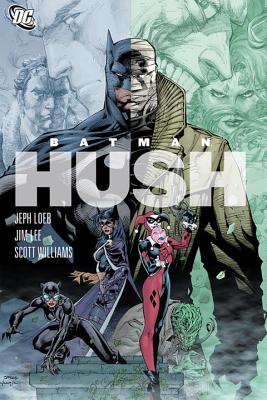 Hush (Paperback)
DC Comics, 9781401223175, 320pp.
Publication Date: August 18, 2009
Description
A New York Times Best Seller
The complete critically acclaimed and best-selling tale is now available in one sensational volume.
BATMAN: HUSH is a thrilling mystery of action, intrigue, and deception penned by Jeph Loeb (BATMAN: THE LONG HALLOWEEN) and illustrated by comics superstar Jim Lee (ALL STAR BATMAN & ROBIN, THE BOY WONDER) in which Batman sets out to discover the identity of a mysterious mastermind using the Joker, Riddler, Ra's al Ghul and the Dark Knight's other enemies - and allies - as pawns in a plan to wreak havoc.
This volume collects BATMAN #609-619 as well as the 6-page segment from Wizard #0 and a 2-page origin story that originally appeared at dccomics.com.
About the Author
Jeph Loeb is an Emmy award nominated and Eisner award winning writer/producer living in Los Angeles. In television, his many credits include Smallville, Lost and Heroes and in film, Teen Wolf and Commando. In comics, he is best known for his work with the supremely talented artist and partner-in-crime TIM SALE on BATMAN: THE LONG HALLOWEEN, SUPERMAN FOR ALL SEASONS, CATWOMAN: WHEN IN ROME for DC as well as Daredevil Yellow, Spider-Man Blue and Hulk Gray for Marvel. Jim Lee is a renowned comic book artist and the Co-Publisher of DC Entertainment. Prior to his current post, Lee served as Editorial Director, where he oversaw WildStorm Studios and was also the artist for many of DC Comics' bestselling comic books and graphic novels, including ALL STAR BATMAN AND ROBIN, THE BOY WONDER, BATMAN: HUSH, and SUPERMAN: FOR TOMORROW. He also serves as the Executive Creative Director for the DC Universe Online (DCUO) massively multiplayer action game from Sony Online Entertainment (SOE). As part of DC Comics-The New 52, Lee is drawing JUSTICE LEAGUE.
Praise For Hush…
"It's beautiful stuff. Catwoman has rarely looked so seductive, nor has Batman's heroic but fearsome image often been used so well. [HUSH] make[s] readers look at Batman and his colleagues with a fresh, enthusiastic eye."—PUBLISHERS WEEKLY, starred

"The art is stunning and beautiful."—Portland Oregonian
Advertisement