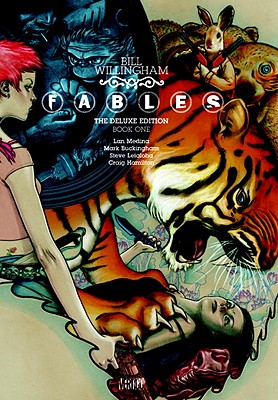 Fables (Hardcover)
The Deluxe Edition Book One
Vertigo, 9781401224271, 264pp.
Publication Date: October 6, 2009
Other Editions of This Title:
Hardcover (11/23/2010)
Hardcover (5/24/2016)
Hardcover (4/18/2017)
Hardcover (5/19/2015)
Hardcover (11/3/2015)
Hardcover (2/11/2014)
Hardcover (9/3/2013)
Hardcover (6/5/2012)
Hardcover (2/21/2012)
Hardcover (8/23/2011)
Hardcover (11/28/2017)
Hardcover (9/27/2016)
* Individual store prices may vary.
Description
When a savage creature known only as the Adversary conquered the fabled lands of legends and fairy tales, all of the infamous inhabitants of folklore were forced into exile.

Disguised among the normal citizens of modern-day New York, these magical characters created their own secret society-within an exclusive luxury apartment building on Manhattan's Upper West Side-called Fabletown. But when Snow White's party-girl sister, Rose Red, is apparently murdered, it is up to Bigby, Fabletown's sheriff, and a reformed and pardoned Big Bad Wolf, to determine if the culprit is Bluebeard, Rose's ex-lover and notorious wife killer, or Jack, her current live-in boyfriend and former beanstalk-climber.

This Deluxe Edition collects the first two trade paperbacks of the series, issues 1-10, and Bill Willingham's prose story from Vol. 1, as well as character sketches.

AWARDS:
YALSA: 2004 annual recommended list of Quick Picks for Reluctant Young Adult Readers
·Willingham, Bill. Animal Farm (Fables series). DC Comics: Vertigo.
·Willingham, Bill. Legends in Exile (Fables series). DC Comics: Vertigo.
YALSA: 2007 Great Graphic Novels for Teens
·Willingham, Bill, Todd Klein, and others. Fables: 1001 Nights of Snowfall. 2006. DC Comics/ Vertigo
As of 2008, Fables has won twelve Eisner Awards.
·Best New Series in 2003
·Best Serialized Story in 2003, 2005 and 2006 (Legends In Exile, March of the Wooden Soldiers and Homelands)
·Best Anthology in 2007 (Fables: 1001 Nights of Snowfall)
·Best Short Story in 2007 (A Frog's Eye View, by Bill Willingham and James Jean, in Fables: 1001 Nights of Snowfall)
Hugo Award Nomination 2009:
·Fables: War and Pieces was nominated for the first Hugo Award for Best Graphic Story
About the Author
Bill Willingham has been writing, and sometimes drawing, comics for more than 20 years. During that time, he's had work published by nearly every comics publisher in the business, and he's created many critically acclaimed comic book series, including Elementals, Coventry, Proposition Players, and of course the seminal Vertigo series Fables, as well as its spin-off series Fairest, Jack of Fables and The Literals. His work has been nominated for many awards, including the Eisner, Harvey, and Ignatz comic industry awards and the International Horror Guild award. He lives somewhere near a good poker room.

Born in 1966 in the English seaside town of Clevedon, Mark Buckingham has worked in comics professionally for the past twenty years. In addition to illustrating all of Neil Gaiman's run on the post-Alan Moore Miracleman in the early 1990s, Buckingham contributed inks to The Sandman and its related miniseries Death: The High Cost of Living and Death: The Time of Your Life as well as working on various other titles for Vertigo and Marvel through the end of the decade. In 2002 he took over as the penciller for Bill Willingham's Fables, which has gone on to become one of the most popular and critically acclaimed Vertigo titles of the new millennium. When not in Clevedon, Buckingham can be found with his wife Irma in the Asturias region of northern Spain.

Lan Medina is the first Filipino artist to win the prestigious Eisner Award in recognition for his work on Fables. He has worked on international comic books including Aria and Stone, plus Mutant X for Marvel.
or
Not Currently Available for Direct Purchase