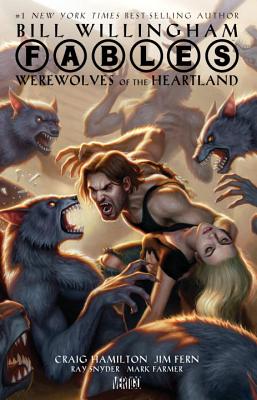 Werewolves of the Heartland (Hardcover)
Vertigo, 9781401224790, 1pp.
Publication Date: November 20, 2012
Description
A #1 New York Times Best Seller At long last The long-awaited original FABLES: WEREWOLVES OF THE HEARTLAND graphic novel is here Bigby Wolf embarks on a quest through the American Heartland to find a new location for Fabletown, a secret society of exiled fairy tale characters living among the "mundys." In his wanderings, Bigby stumbles across Story City, a small town that seems to be occupied solely by werewolves. Oddly enough, they seem to already know and revere Bigby, but at the same time they've captured and caged him. FABLES: WEREWOLVES OF THE HEARTLAND tells an epic tale that began well before Bigby Wolf set foot in the bucolic plains of the Midwest. It began long ago when he served in World War II and became mired in a Nazi experiment that would change nations. It's soon evident that murder in Story City is the least of their sins, and unraveling the town's many mysteries may cost Bigby, the seventh son of the North Wind, much more than his own life. This new hardcover is a must-have for any longtime FABLES fan, as well as a great entry point for new readers.
About the Author
Bill Willingham has been writing, and sometimes drawing, comics for more than twenty years. During that time he's had work published by nearly every comics publisher in the business and he's written many critically-acclaimed comic book series, including Elementals, FABLES, JACK OF FABLES, FAIREST, ROBIN, SHADOWPACT and SALVATION RUN. A multiple winner of the Eisner Award, Willingham has also been nominated for the International Horror Guild award. Bill lives somewhere near a good poker room.
Praise For Werewolves of the Heartland…
"Clever, enjoyable.... Willingham clearly has an immense amount of fun playing with these characters and their histories, and the art is a perfect match: clear, fanciful and finely drawn. Fables is an excellent series in the tradition of Sandman, one that rewards careful attention and loyalty."—PUBLISHERS WEEKLY on FABLES
"[A] wonderfully twisted concept.... Features fairy tale characters banished to the nourish world of present-day New York."—WASHINGTON POST

"[A] spellbinding epic."—BOOKLIST
"Clever, enjoyable ... an excellent series in the tradition of SANDMAN, one that
rewards careful attention and loyalty."—PUBLISHERS WEEKLY
"One of the best damn series ever written."—AIN'T IT COOL NEWS
Advertisement