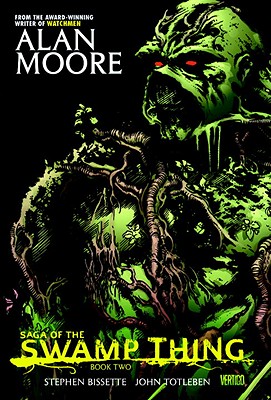 Saga of the Swamp Thing Book Two (Hardcover)
Vertigo, 9781401225322, 224pp.
Publication Date: December 1, 2009
Other Editions of This Title:
Paperback (4/10/2012)
Paperback (1/8/2013)
Paperback (7/16/2013)
Paperback (2/23/1998)
Hardcover (11/15/2011)
Hardcover (2/1/2011)
Hardcover (7/12/2011)
Paperback (3/1/2011)
* Individual store prices may vary.
Description
Before WATCHMEN, Alan Moore made his debut in the U.S. comic book industry with the revitalization of the horror comic book THE SWAMP THING. His deconstruction of the classic monster stretched the creative boundaries of the medium and became one of the most spectacular series in comic book history.

In this second collection of the Swamp Thing hardcover featuring SAGA OF THE SWAMP THING #28-34 and SWAMP THING ANNUAL #2, the Earth Elemental says goodbye to the illusion of his own humanity after learning that he is 100 percent plant, meets a crew of benevolent alien invaders inspired by the classic swamp-based comic strip Pogo, and consummates his relationship with Abigail Arcane as only he could.

"Perhaps the brainiest and scariest horror narrative of the '80s." — ROLLING STONE

"The series offers another fine option for the adult horror-comic fan."
—THE WASHINGTON TIMES

"The best muck-encrusted monster in the best comics."
—Neil Gaiman in ENTERTAINMENT WEEKLY
About the Author
Alan Moore is perhaps the most acclaimed writer in the graphic story medium, having garnered countless awards for works such as WATCHMEN, V FOR VENDETTA, SWAMP THING and MIRACLEMAN. He is also the mastermind behind the America's Best Comics line, through which he has created (along with many talented illustrators) THE LEAGUE OF EXTRAORDINARY GENTLEMEN, PROMETHEA, TOM STRONG, TOMORROW STORIES and TOP TEN. As one of the medium's most important innovators since the early 1980s, Moore has influenced an entire generation of comics creators, and his work continues to inspire an ever-growing audience.
Praise For Saga of the Swamp Thing Book Two…
"The best muck-encrusted monster in the best comics."—Neil Gaiman in Entertainment Weekly 
or
Not Currently Available for Direct Purchase