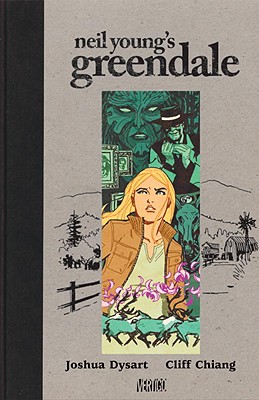 Neil Young's Greendale (Hardcover)
Vertigo, 9781401226985, 160pp.
Publication Date: June 15, 2010
Other Editions of This Title:
Paperback (9/17/2013)
* Individual store prices may vary.
Description
"Greendale" is based on Neil Young's critically acclaimed 2003 album and 2004 film of the same name. Many have referred to the album as a "rock novel" which explores the effects of crime, media, consumerism and environmental issues on the Green family in the sheltered small Northern California town of Greendale.

Even for politically active teenage girls, Sun Green has always been different. There's been talk that the Green family women had great powers in concert with nature, but Sun herself never really wondered too much about it. Then, in the fall of 2003, as the nation gallops blindly into war, a Stranger appears in her hometown of Greendale, and everything starts going to hell. In an effort to overcome the pain the Stranger brings, Sun unearths the mystery of the Green family women, and in doing so, finds her own inherent power, not just to confront the Stranger, but to confront the mounting injustice of the world outside of Greendale as well.
About the Author
Joshua Dysart co-created and wrote the cult hit comic book series Violent Messiahs in 1997. Since then he has done work for virtually every major comic book publisher, including DC, Vertigo, Dark Horse, Image, IDW and Penny Farthing Press. He wrote the comic book adaptation of the film Crouching Tiger, Hidden Dragon for Art Asylum, authored the one-shot Van Helsing: Beneath the Rue Morgue (an original story featuring the character from the Universal film) and penned Skull & Bones: A Monster House Story, which was tied into the Sony animated children's film. He has written a two volume 270 page graphic novel for Avril Lavigne entitled Make 5 Wishes published by Del Rey Manga/Random House which has been printed in over seven languages as well as digitally distributed throughout Asia.
Praise For Neil Young's Greendale…
"Chiang's subdued, surreal art delivers an arresting visual dimension to the rock legend's spiral narrative that's as whimsical as it is fearsome."—WIRED/Underwire

""Greendale" the graphic novel is completely satisfying as its own, singular animal. . . . I enjoyed "Greendale" immensely, just as scenes from the Gulf reminded me how prescient it is."—Scripps Howard News Service

"An engrossing story of how every generation rediscovers its own coming-of-age journey, adapted from the rock opera album by Neil Young. . . . Dysart's writing ably builds the mystery of the story toward Sun's climactic discoveries about herself and her family that lead to life-changing decisions. Chiang's art excels at mixing the magical elements of the story with its foundation in reality and recent world events."—Publishers Weekly
or
Not Currently Available for Direct Purchase