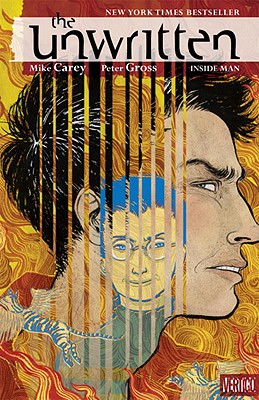 The Unwritten Vol. 2: Inside Man (Paperback)
Inside Man
Vertigo, 9781401228736, 168pp.
Publication Date: August 17, 2010
Description
Tom arrives at Donostia prison in Southern France and falls into the orbit of another story: The Song of Roland. Unfortunately for Tom, it's a story that ends with a massacre. Tom discovers the true meaning of 'out of the frying pan' after hisescape from Donostia jail takes him to Stuttgart in 1940, a ghost city inhabited by the master liar of the Third Reich, Josef Goebbels, and a tortured soul who's crying out for rescue-or death. This New York Times best-selling Vertigo series by Mike Carey (LUCIFER) and Peter Gross (LUCIFER) collects THE UNWRITTEN #6-12.
About the Author
Mike Carey got into writing through comic books, where his horror/fantasy series Lucifer for Vertigo/DC Comics garnered numerous international awards and was nominated for five Eisners. From there he moved into novels and screenplays, while still maintaining a presence in the comics world (Vertigo/DC Comics' Hellblazer and Marvel's X-Men, Ultimate Fantastic Four). His movie Frost Flowers, an erotic ghost story, is currently in production with Hadaly/Bluestar Pictures. He lives in London, England, about as far as you can get from the centre of the city and still have access to the London Underground train network. His wife, Linda, writes fantasy for young readers under the pseudonym A.J. Lake. They have three children and an implausibly beautiful cat.
Advertisement