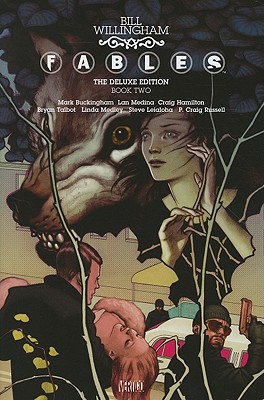 Fables (Hardcover)
The Deluxe Edition Book Two
Vertigo, 9781401228798, 264pp.
Publication Date: November 23, 2010
Other Editions of This Title:
Hardcover (5/24/2016)
Hardcover (4/18/2017)
Hardcover (5/19/2015)
Hardcover (11/3/2015)
Hardcover (2/11/2014)
Hardcover (9/3/2013)
Hardcover (6/5/2012)
Hardcover (2/21/2012)
Hardcover (8/23/2011)
Hardcover (10/6/2009)
Hardcover (11/28/2017)
Hardcover (9/27/2016)
* Individual store prices may vary.
Description
As Snow White slowly recovers from a bullet to the brain, she and Bigby spend a lot of time in each other's company. But when they announce that they'll be vacationing together, all of Fabletown is shocked...and not just because Snow White has never taken a holiday before. The twosome's sudden departure from New York City -- and the deadly peril they're about to fall into -- is surely no match for the ruthless enemy who's still lurking in the back woods. This volume also includes the special FABLES: THE LAST CASTLE, we learn of the great war that forced Bigby Wolf, Prince Charming and Bluebeard to leave their homeland in search of a safe haven. As the battle rages, we meet a mysterious woman in red, and learn why Snow White's deputy, Little Boy Blue, only plays the blues on his trumpet.