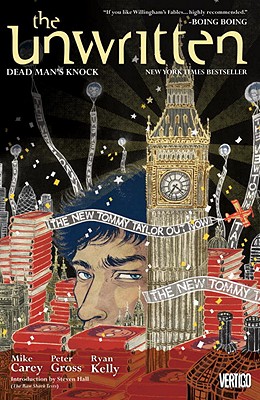 The Unwritten Vol. 3
Dead Man's Knock
Paperback

* Individual store prices may vary.
Description
The third volume of the critically acclaimed New York Times best selling new series from the Eisner-nominated creative team of Mike Carey and Peter Gross!

The fictional adventures of Tommy Taylor are the biggest publishing sensation of the still-young century. And now, years after the last volume, Tommy's creator Wilson Taylor, long missing and believed dead, is unleashing a brand-new Tommy Taylor book upon the world. There's just none problem: It's not a new Tommy Taylor book at all.
 
Sinister forces have create a fake book in Wilson's name, a fraud designed to destroy his literary legacy – and coax the reclusive author of hiding so they can destroy him once and or all. But they didn't count on Wilson's most powerful creation: his son, the real Tom Taylor.
 
To unmasks the truth about the new Tommy, Tom must confront some of the darkest secrets that surround him, from the hidden fate of his father to the secret origin of his closest friend to the true nature of his fictional alter ego. Will Tom be able to stop his doppelganger's return? Or will the publishing event of the decade lead to the end of time?

Vertigo, 9781401230463, 160pp.
Publication Date: March 29, 2011
About the Author
Mike Carey got into writing through comic books, where his horror/fantasy series Lucifer for Vertigo/DC Comics garnered numerous international awards and was nominated for five Eisners. From there he moved into novels and screenplays, while still maintaining a presence in the comics world (Vertigo/DC Comics' Hellblazer and Marvel's X-Men, Ultimate Fantastic Four). His movie Frost Flowers, an erotic ghost story, is currently in production with Hadaly/Bluestar Pictures. He lives in London, England, about as far as you can get from the centre of the city and still have access to the London Underground train network. His wife, Linda, writes fantasy for young readers under the pseudonym A.J. Lake. They have three children and an implausibly beautiful cat.
or
Not Currently Available for Direct Purchase