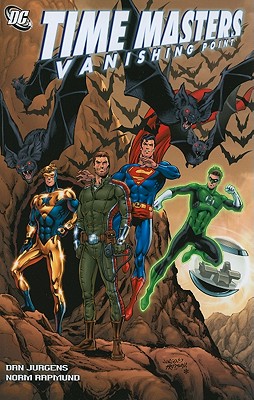 Vanishing Point (Paperback)
DC Comics, 9781401230470, 144pp.
Publication Date: April 12, 2011
Description
With Batman lost in time, DC's top heroes must search throughout history to find him - and keep time from tearing itself apart Vanishing Point - the place where time itself comes to an end - is tearing itself apart, and one of the keys to keeping reality from being torn asunder is finding exactly where Bruce Wayne is in the time stream Rip Hunter puts together a high-powered band of Time Masters to travel throughout history in search of the World's Greatest Detective, but can even the combined might and skill of Superman, Green Lantern and Booster Gold help the Time Master pinpoint where Batman went at the end of FINAL CRISIS? Collects TIME MASTERS: VANISHING POINT #1-6.
About the Author
Dan Jurgens is a writer and artist most famous for creating Booster Gold, as well as for being one of the main forces behind "The Death of Superman." He has written and/or illustrated titles such as Justice League America, Captain America, The Sensational Spider-Man, Thor, Teen Titans, Aquaman, and the company-wide DC crossover known as "Zero Hour."
Advertisement