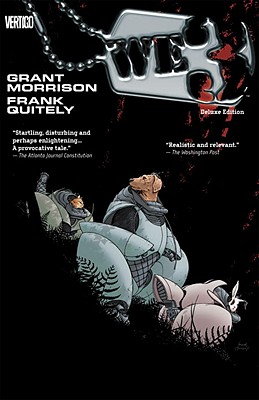 We3 Deluxe Edition
Hardcover

* Individual store prices may vary.
Other Editions of This Title:
Paperback (2/25/2014)
Paperback (7/1/2005)
Hardcover (8/1/2011)
Description
Available for the first time in a deluxe hardcover format, a powerful tale from the ALL-STAR SUPERMAN team of Grant Morrison and Frank Quitely, packed with nearly 40 pages of bonus material!
Writer Grant Morrison and artist Frank Quitely deliver the emotional journey of WE3 – three house pets weaponized for lethal combat by the government – as they search for "home" and ward off the shadowy agency that created them.
With nervous systems amplified to match their terrifying mechanical exoskeletons, the members of Animal Weapon 3 (WE3) have the firepower of a battalion between them. But they are just the program's prototypes, and now that their testing is complete, they're slated to be permanently "decommissioned," causing them to seize their one chance to make a desperate run for freedom. Relentlessly pursued by their makers, the WE3 team must navigate a frightening and confusing world where their instincts and heightened abilities make them as much a threat as those hunting them – but a world, nonetheless, in which somewhere there is something called "home."
Included in this deluxe hardcover are 10 brand new story pages created by Morrison and Quietly for this collection as well as over 25 pages of sketchbook and character design pages featuring commentary from the creators.
Praise For We3 Deluxe Edition…
"A sophisticated tale of morality and innocence that you surely will not forget." - Ain't It Cool News
"Compelling, moving and disturbing, this is a thought-provoking work." - School Library Journal
"Simultaneously thrilling and touching yet not in the least sentimental." - Booklist
"WE3 has all the elements of a blockbuster." - Los Angeles City Beat
Vertigo, 9781401230678, 144pp.
Publication Date: August 23, 2011
About the Author
GRANT MORRISON has been working with DC Comics for twenty years, after kicking off his American comics career with acclaimed runs on ANIMAL MAN and DOOM PATROL. Since then he has written such best-selling series as JLA, BATMAN and New X-Men, as well as such creator-owned titles as THE INVISIBLES, SEAGUY, THE FILTH, WE3 and JOE THE BARBARIAN. In recent years Morrison has been hard at work expanding the DC Universe in titles ranging from the Eisner Award-winning SEVEN SOLDIERS and ALL-STAR SUPERMAN to the reality-shattering, multiverse-spanning epic that is FINAL CRISIS -- as well as reinventing the world of the Dark Knight Detective in BATMAN AND ROBIN and BATMAN, INC.In his secret identity, Morrison is a "counterculture" spokesperson, a musician, an award-winning playwright and a chaos magician. He lives and works between Los Angeles and his homes in Scotland.FRANK QUITELY was born in Glasgow in 1968. Since 1988 he's drawn The Greens (self-published), Blackheart, Missionary Man, Shimura, Inaba, ten shorts for Paradox Press, six shorts for Vertigo, FLEX MENTALLO, 20/20 VISIONS, BATMAN: THE SCOTTISH CONNECTION, THE KINGDOM: OFFSPRING, JLA: EARTH 2, THE INVISIBLES, TRANSMETROPOLITAN, THE AUTHORITY, Captain America, New X-Men, THE SANDMAN: ENDLESS NIGHTS, WE3, ALL-STAR SUPERMAN and BATMAN AND ROBIN. He has also created covers for Negative Burn, Judge Dredd Megazine, Classic 2000 AD, JONAH HEX, BOOKS OF MAGICK: LIFE DURING WARTIME, BITE CLUB, AMERICAN VIRGIN and ALL-STAR BATMAN. He lives in Glasgow with his wife and three children. He used to design his own hats and clothing. Currently his favorite hobby is cooking.
or
Not Currently Available for Direct Purchase