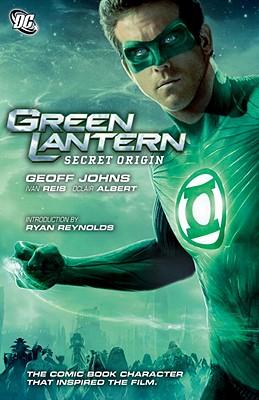 Secret Origin (Paperback)
DC Comics, 9781401230869, 192pp.
Publication Date: April 12, 2011
* Individual store prices may vary.
or
Not Currently Available for Direct Purchase
Description
Before he became the Green Lantern...before he unwittingly brought about the downfall of the Green Lantern Corps...before his rebirth as the universe's most powerful protector...Hal Jordan of Earth was just a washed-up test pilot with no way to fly...until the dying alien Abin Sur granted him his power ring, the most powerful weapon in the universe--and his entry into a reality he could never have imagined.
Hal Jordan's metamorphosis from cocky test pilot to the role of the intergalactic guardian Green Lantern makes its way to the big screen in June 2011 from Warner Bros. Pictures, directed by Martin Campbell(CASINO ROYALE) and starring Ryan Reynolds and Blake Lively.
In preparation for his roll as Hal Jordan in "Green Lantern," Ryan Reynolds, who also contributes the introduction to this new edition, has pointed to Geoff Johns' GREEN LANTERN: SECRET ORIGIN as "his bible" for shaping his portrayal of Hal Jordan:
"Green Lantern encompasses a seemingly limitless supply of adventure."
This new edition includes several preview pages from Green Lantern: Rebirth and Green Lantern: The Sinestro Corps War.
From the Hardcover edition.
About the Author
Geoff Johns, a Detroit native, brings a Hollywood sense of story-telling to comics. After working as an assistant to Richard Donner (director of Lethal Weapon, Superman and many other great films), Geoff has brought his considerable writing talent to comics. For DC he has written Stars and S.T.R.I.P.E.S., The Flash, Green Lantern and the enormously popular JSA with David Goyer and helped revitalize Hawkman with James Robinson. From the Hardcover edition.
Praise For Secret Origin…
"This book basically gave me the introduction I was looking for in order to begin the incredible ascent to Oa." - Ryan Reynolds
Advertisement