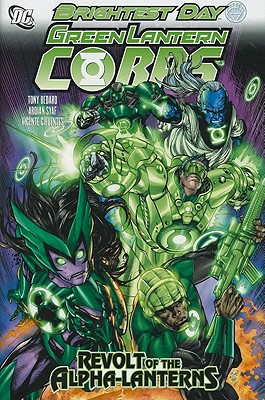 Green Lantern Corps (Hardcover)
Revolt of the Alpha Lanterns
DC Comics, 9781401231392, 176pp.
Publication Date: May 31, 2011
* Individual store prices may vary.
Description
In the wake of BLACKEST NIGHT and the dawn of BRIGHTEST DAY, the Alpha Lanterns seek to force Green Lanterns John Stewart, Kyle Rayner and former Guardian Ganthet into their ranks. Will they be able to resist, stop the revolt of the Alpha Lanterns led by their evil mastermind, Cyborg Superman, and discover his sinister new secret agenda?
About the Author
Writer Tony Bedard began his career as an assistant editor for both the DCU and Vertigo, moving onto scribe GREEN LANTERN CORPS, R.E.B.E.L.S., and BIRDS OF PREY. As a freelance writer, Bedard has written for Marvel Comics, Image, Broadway, Malibu and Crusade Comics, as well as the animated Turok: Son of Stone film. He is currently writer on GREEN LANTERN: NEW GUARDIANS and BLUE BEETLE, both a part of DC Comics - The New 52. "From the Trade Paperback edition."